Department of Science Education Professor Ji Hun Park's Research Team Develops Semi-permanent Antifog Nanocoating
Ji Hun Park ( jihunpark@ewha.ac.kr)
Department of Science Education
Inspired by the siliceous body forming mechanism of glass sponges
Eco-friendly technology that is harmless to the human body while resistant to washing and contamination… a domestic patent has been filed
As more people complain of discomfort due to fogging on the glasses caused by routinized use of masks, the research team of Professor Ji Hun Park, from the Department of Science Education, has developed a semi-permanent nanocoating technology that can prevent such fogging.
This technology, developed with the participation of our graduate student (Seulbi Kim, master's degree candidate), has been applied for a domestic patent, and commercialization research is in progress.
If you wear a mask all day like these days, you can often experience fogging on your glasses. In addition to glasses, fogging that occurs on transparent materials commonly encountered in everyday life such as goggles, car glass, and windows interferes with the vision, causing considerable discomfort, and leads to life-threatening situations in severe cases.
In order to solve this inconvenience, various anti-fog coating technologies have been developed to maintain the transparency of the material. However, the existing anti-fog coating not only loses its effect easily after washing, but also cannot guarantee biological safety when the coating is exposed to the human body for a long time.
The research team succeeded in developing a nanocoating technology for silica composite materials by combining a "polyphenol material" extracted from plants and a robust "glass film formation mechanism" of a glass sponge, which is a marine organism.
In detail, a silica composite nanocoating was performed by combining cysteamine, which promotes glass film formation, into an iron ion-polyphenol complex capable of forming an elaborate nanofilm.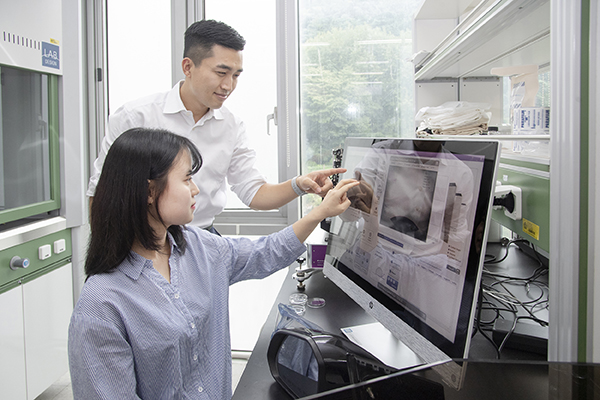 김 서림 방지 코팅된 샘플의 표면 성질을 측정하고 있는 모습
The developed nanocoating of silica composite material imparts superhydrophilicity to the coating surface, and thus shows excellent antifog effect even with a thin coating film of several tens of nanometers.
Thanks to the robust glass material, the silica composite nanocoating maintains excellent anti-fog effect even after high temperature treatment over 300℃ and rapid temperature change (from 60℃ to -20℃). More surprisingly, it was confirmed that the silica composite nanocoating was maintained intact despite the strong chemical cleaning agent treatment and contamination from oil components, thus showing the antifog effect.
Professor Ji Hun Park said, "The silica composite nanocoating technology developed this time enables easy and quick nanocoating formation using spray-assisted method regardless of the type, size, and surface condition of the coating target. As a result of practical application to car side mirrors and safety goggles, it has been shown to have antifog effects." He added, "In particular, it has the advantage of using environmentally friendly materials that are harmless to the human body and are safe for washing and contamination."