Ewha Haktang founded for modernization of women 1886-1910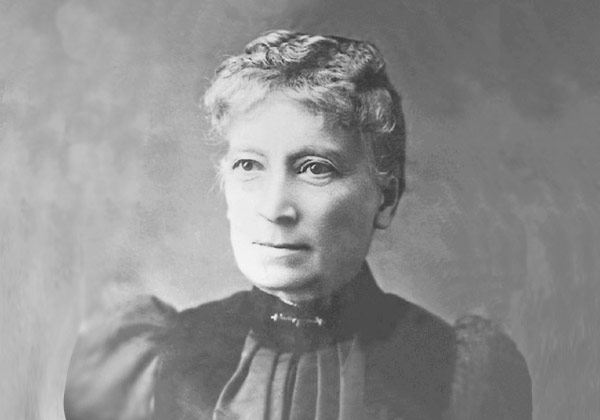 1886.
Ewha Haktang founder
Mary F. Scranton
1886 The first modern educational institute for Korean women.
The American missionary Mary F. Scranton began classes for women at her home in Jeongdong, Seoul.
1887 Boguyeogwan offered medical service for women.
As Korea's first hospital exclusively for women, it laid the groundwork for Ewha's Colleges of Nursing and Medicine, which became the current Ewha Womans University Medical Center
College courses open doors to women's higher education 1910-1925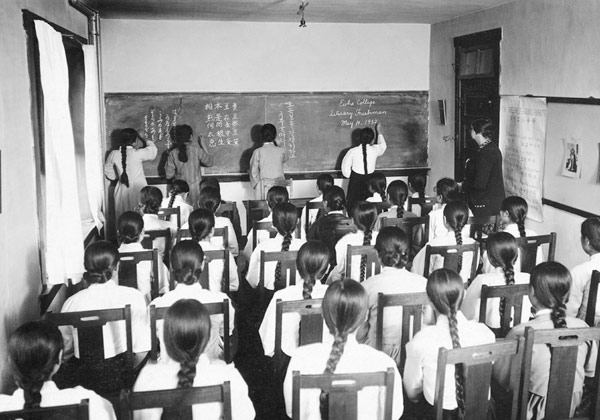 1925.
Ewha College
1910 College courses launched in September.
The College opened at Ewha Haktang with 15 students; its inaugural class graduated in 1914.
1925 Ewha College was founded.
The College officially became Ewha College, making it the first institute of higher education for Korean women.
Fostering a sense of calling and thirst for learning in students 1925-1945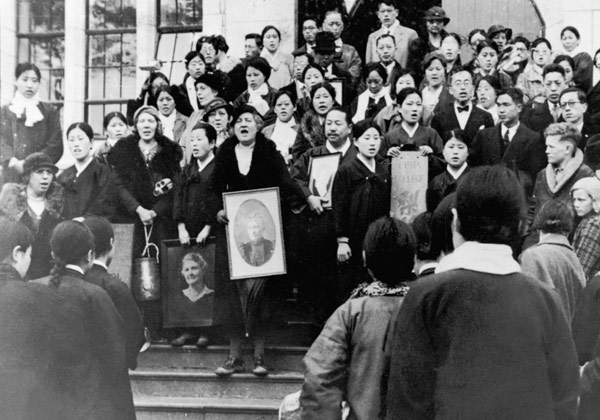 1935.
Moving to Sinchon
1935 Campus moved to Sinchon.
The new campus in Sinchon marked Ewha College's first step toward becoming a world-class university.
Gains new ground with accreditation as Korea's first university 1946-1961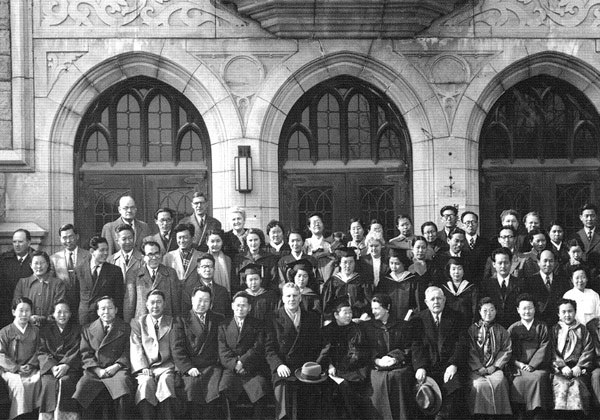 1950.
Korea's first graduate
school for women
1946 First Korean university to receive government accreditation
Ewha was officially accredited by the Ministry of Education, becoming the first accredited four-year university in Korea.
1951 Temporary wartime campus in Busan
Following the outbreak of the Korean War, Ewha opened an evacuee campus in the southern city of Busan on Sept. 1, 1951, comprising 30 temporary wooden structures and tents.
Decades of progress as Korea's top women's university 1961-2000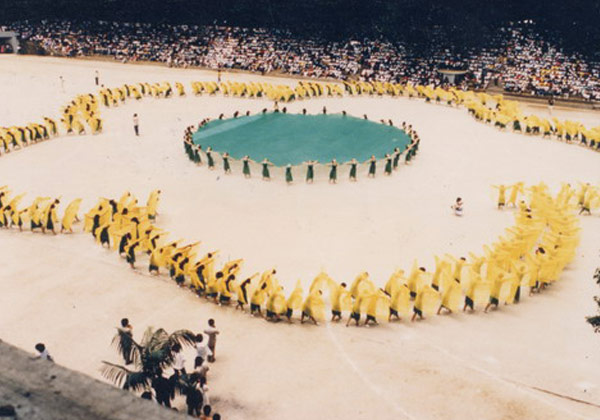 1986.
100th anniversary festivities
1963 First PhDs awarded
Ewha awarded its first doctoral degrees to Ban Heon-gyeong and Kim Hye-chang in medicine.
1977 Korea's first women's studies course
Ewha offered Korea's first course in women's studies and established the Korean Women's Institute to further development in the discipline.
1986 Ewha's 100th anniversary
Ewha celebrated the 100th anniversary of its foundation, a turning point in its development as a world-class 21st-century university.
1995 Top marks in national accreditation
Ewha named top-ranked school in Comprehensive University Accreditation System conducted by Korean Council for University Education, winning recognition for its high education standards.
1996 World's first women's engineering college
Ewha established the world's first engineering college for women.
From Korea's first to world's best 2000-2010
2008.
ECC , Korea's largest
underground
campus facility
2001 Korea's first International Studies Division
Ewha opened Korea's first Division of International Studies, offering all courses in English.
2006 Ewha Global Partnership Program
Korea's first degree program for women from developing countries was established to lead women's global education.
2007 Ewha-KOICA Program
Ewha established an intensive MA program for female researchers and public servants from developing countries.
2007 Korea's first self-designed major
In keeping with the vision of its founder, Ewha established Scranton College, offering Korea's first self-designed major in an undergraduate program.
2008 Construction of ECC
The Ewha Campus Complex is Korea's largest environmentally friendly underground campus facility and has changed the landscape of university campuses in Korea
Global hub for women's education and intellectual exchange 2010-present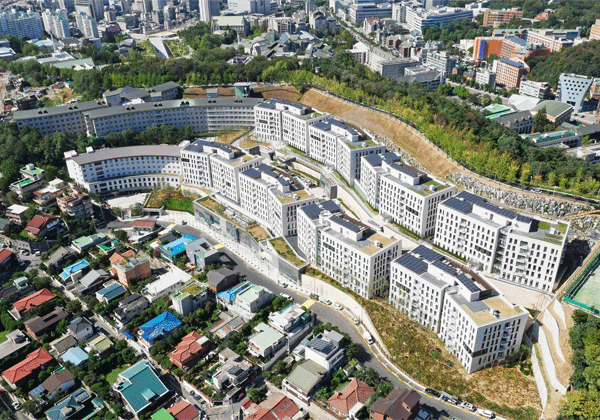 2016.
Construction of New Dormitories
2011 Ewha-Solvay collaboration
Ewha signed a university-industry collaboration agreement with multinational chemical corporation Solvay, to build the global headquarters of its specialized R&D center at Ewha.
2012 Center of women's global education
Ewha launched the Ewha Global Empowerment Program to foster female leaders in public and non-government sectors in developing countries.
Global center for basic science research
Ewha was awarded KRW 100 billion over the next 10 years from the Institute for Basic Research.
2014 University-Industry Cooperation Building
Ewha opened the University-Industry Cooperation Building in 2014 with the aim of providing the infrastructure for a global research network that will lead the future of science and promote cooperation among academia, industries, research institutes, and government agencies.
2016 Construction of New Dormitory
In 2016, E-House and Ottogi Global House were constructed. As of 2018, approximately 4,300 students live on campus, the highest accommodation rate among Seoul-based universities.
2018 Ewha Womans University Seoul Hospital
Descended from its predecessor Pogoonyogoan, Korea's first medical institution for women, Ewha Womans University Medical Center completed the construction of its new hospital 'Ewha Womans University Seoul Hospital' in Magok district of Seoul in 2018.
2019 Research Cooperation Building
Ewha opened the Research Cooperation Building in 2019. The Research Cooperation Building will offer a base camp for global scientific research, starting with the Center for Quantum Nanoscience, which is affiliated with the Institute for Basic Science, and ELTEC College of Engineering.