[Management] Taekyung Group Chairperson Kim Hae-ryun Receives Light of Ewha Award
The Ewha DNA series of interviews introduces esteemed Ewha alumnae from various fields. We interviewed Ewha alumnae and Taekyung Group chairperson Kim Hae-ryun (graduating class of 84, Department of Business Administration), who is the recipient of the Light of Ewha Award this year.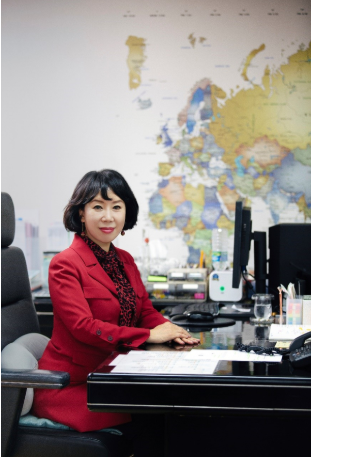 Q. Could you briefly introduce yourself?
Hello, I am Kim Hae-ryun, the chairperson of Taekyung Group. After graduating from the Department of Business Administration at Ewha Womans University, I went on to earn an MBA from Pace University in the U.S. and studied fashion design at the Fashion Institute of Technology in New York.
Q. Tell us about Taekyung Group, the business group that you direct.
Taekyung Group was initially founded as Taekyung Industry in 1975, and eventually became a mid-sized business group that mainly focuses on basic materials and eco-friendly inorganic chemistry. Basic materials produced by Taekyung Group's 10 subsidiaries, including Taekyung BK, Taekyung Chemical, Taekyung SBC, Taekyung Eco, and Namyeong Electric, are utilized across almost all industries including steel, paper, construction, semiconductors, chemicals, rubber, energy, and cosmetics. Refusing to settle at the top of the field in Korea, the company equipped itself with cutting-edge technologies through continued investment in research and development over 45 years to ensure swift responses to changes in the external environment. Based on its global competitiveness in exports, Taekyung Group is making the utmost effort to become the world's number one in the basic materials field, especially in inorganic materials, backed by more than 1,000 employees including myself.
Q. We were told that, before joining Taekyung Group, you had a high reputation as a legendary CEO who took on the challenge of starting your own business and growing it into Korea's first online shopping mall "Fashion Plus," a business with a value of around 80 billion won today.
Since I studied fashion design during my time abroad, I launched a fashion brand called "Adrianne" at the age of 29 and grew it to a company that registered more than 10 billion won in sales. Then, in 1997, the Asian financial crisis broke out and triggered an overall downturn in the fashion industry, which led me to consider starting a new business. In 1999, I launched Fashion Plus, which was the first online clothing store in Korea. In the 2000s, the rapid growth of the Internet caused an explosion of e-commerce businesses, and in 2010, 10 years since its launch, Fashion Plus reached sales revenue of approximately 80 billion won. The experience of strategically pioneering an online business for 10 years in a rapidly changing online market has served as a great asset for my career.
Q. What kind of challenges did you face after joining Taekyung Group, which is in a completely different field from the businesses that you founded yourself?
Actually, I was familiar with the company and its business items, because I had always thought that I would inherit the family business someday and prepared myself since I was a child. Nevertheless, as Taekyung Group's business sector deals with basic materials, which are entirely different from the fashion industry, when I first joined, I invited chemical experts and attended their lectures every week with all employees in order to meticulously study basic materials and chemistry from scratch and gain an expert understanding of the subject. Even in an unfamiliar field, I had been learning the theory and practice of running a business since starting my own business at the age of 29 and developed a habit of strategic thinking in order to respond to changes in the external environment. All of these experiences helped me a lot in leading and growing Taekyung Group.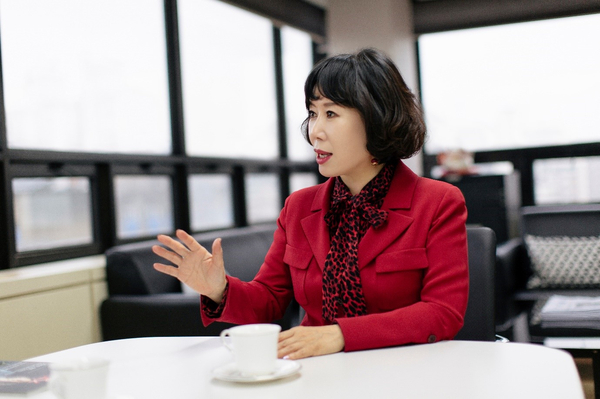 Q. What advice would you give to the Ewha community and all working women in Korea who are preparing for a career in the field of basic materials?
The basic materials industry touches upon a wide range of fields and has near-endless possibilities, to the point where you can say all businesses are our potential customers. However, as competition is fierce, we need to grow and advance constantly in line with rapid technological changes. In order to successfully build a career in this field, you should know your core strengths, use them to analyze the competitive advantage that will set you apart from competitors, the market environment, and trends, then respond promptly.
You will find big differences in every result of your efforts, and not just in your career, if you turn strategic thinking into a habit. Repeating the cycle of success and failure allows you to earn invaluable lessons, strengths, and confidence, even if you end up failing. I hope that all of you will take on challenges, innovations and changes with a sense of pride and sincerity toward your work, without becoming complacent and staying in the same place.
Q. What is your idea of the Ewha DNA?
I think Ewha's leadership is a leadership of service. Looking at alumnae who have achieved success in their respective fields, I find that they possess a soft charisma, rather than one of aggressiveness, which allows them to communicate better with others. Today, we live in a world that requires exactly this type of leadership. I believe that the delicate sensibilities that allow for better communication and consideration toward others aptly complement Ewha's school spirit. I think this will open up so many good opportunities for Ewha students. I hope to see plenty of leaders with charisma and compassion from Ewha.