[Sciences] Interview with Dr. Hae Jeong Lee of the National Institute of Standards and Technology
The Ewha DNA series of interviews introduces esteemed Ewha alumnae from various fields. This article, as one of the STEM (Sciences, Technology, Engineering, Mathematics) field interviews, is an abridged version of the interview with Dr. Hae Jeong Lee (graduating class of 1989, Department of Chemistry) who works at the National Institute of Standards and Technology (NIST) under the U.S. Federal Government.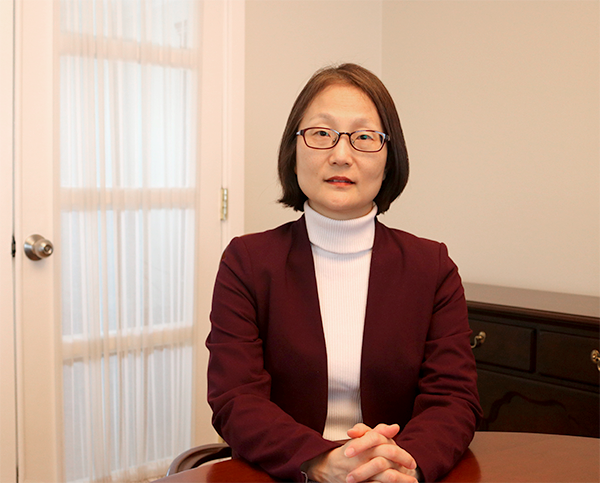 An Ewha alumna, Hae Jeong Lee has been working at NIST since 1999, and is currently the Laboratory Officer at the Material Science and Engineering Division. She was dispatched to the Embassy of the United States in Seoul this winter and has been working on female economic empowerment in the STEM fields as a part of the Embassy Science Follow (ESF) program, which has been operated by the U.S. State Department since 2001.
On Thursday, January 9, Hae Jeong Lee visited Ewha to give a special lecture titled "STEM and Leadership: Communication." Looking at the gender ratio among engineers, women take up only 10 to 20 percent among the total. As such, when people are asked about "engineers," most tend to think of male engineers. Lee emphasized that breaking such gender stereotype is essential, because it is difficult to overcome the gender gap while the stereotype lingers in our mind.
Q. What does "Ewha" mean to you?
Ewha is a place where my identity and vision were established. At Ewha, I certainly learned that it is my responsibility to pass on Jesus's love to others, so most of what I have done for others was to help them for nothing without any reason. As I spoke during the lecture, I hope everyone will have the experience of learning the joy of serving others. There is nothing that makes me as happy as helping others. Therefore, I cherish Ewha as the place where I learned these values.
Q. What do you think the Ewha DNA is?
I think it means 'leadership.' I think you can acquire leadership naturally while studying at Ewha. Everyone can have the opportunity to be a leader at Ewha. Ewha provides more opportunities for leadership than anywhere else, so you can train your leadership skills organically. Whenever I meet someone from Ewha, I can sense that they embody this kind of leadership. Leadership can be also explained as 'initiative,' the so-called drive to move forward, which is one of the values a leader should possess. I think such 'self-motivation' is the Ewha DNA.
Q. Finally, what advice would you like to give to the Ewha community?
One of the reasons my bosses trusted me while I was working in Korea and the United States was that they found I was considerate, helped others and sought to work well alongside my colleagues. Many people liked to work with me, and good teamwork produced good results. In the end, I think the willingness to work alongside others is what changes society.
I hope that you can discover your talent, things you like, and things that make your heart flutter. You don't have to recklessly go as fast as you can, but keep going as far as you can to the end. The strength that you gain as a result will help you become leaders who can change the world.
Source: Ewha Today