Ewha Global School of Continuing Education held an opening and agreement ceremony for the 1st professional training cour
Ewha Global School of Continuing Education takes the lead in strengthening the competency of the 'Law Sarang Commissioner'
: Running a professional training course for the 'Law Sarang Commissioner' to lead the crime prevention of vulnerable youth
Ewha Global School of Continuing Education (Director Sang-mi Cho), together with the Seoul Southern District Prosecutor's Office (District Attorney Park Soon-cheol), and 'Law Sarang Commissioner' of the Ministry of Justice (President Song Jin-soo) held the opening ceremony of the first 'Law Sarang Commissioner' course and an agreement ceremony between institutions at a briefing room on the 2nd floor of the Seoul Southern District Prosecutor's Office.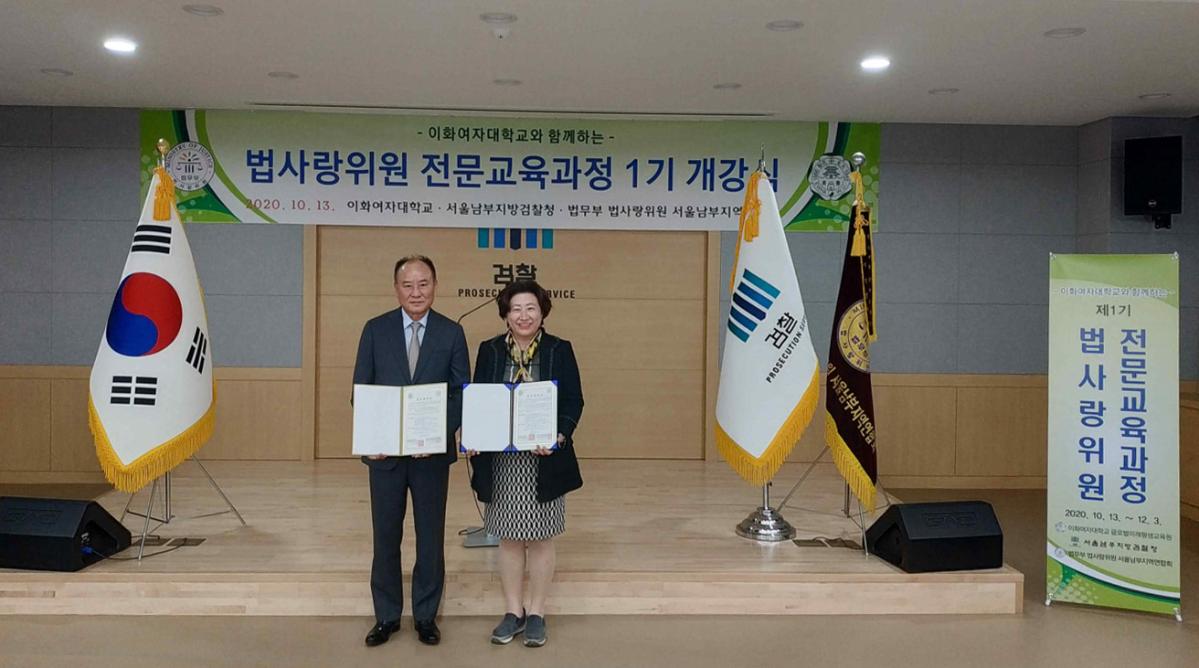 Song Jin-soo, president of the Association of Law Sarang Seoul Southern District Association, Sang-bae Kim, head of the operation department along with 26 trainees, Sang-mi Cho, director of Global School of Continuing Education at Ewha Womans University, Ae-ryun Kim, head professor and Choi Young-mi, head of teaching department, Jeong-woo Lee, the chief prosecutor of the Crime Investigation Department for Women and Children, and Jeong-hwa Kim, the exclusive prosecutor for the boys attended the event.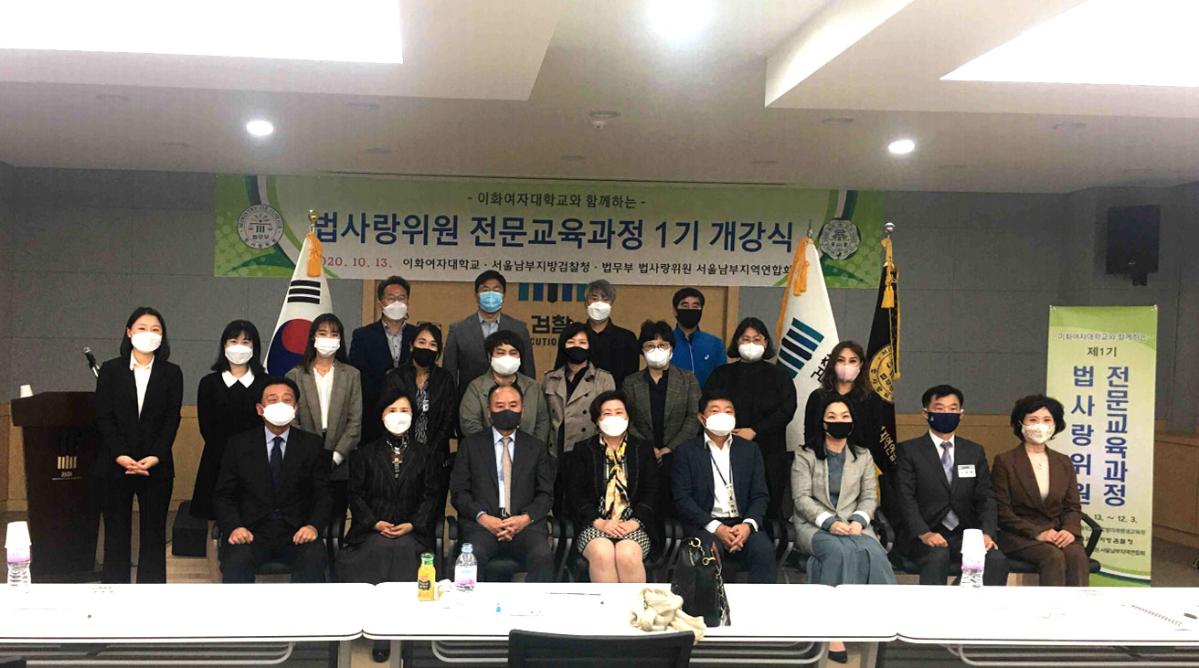 Through this agreement, the two sides agreed to operate a professional training course for the Law Sarang Commissioner in cooperation for the next five years. The Law Sarang Commissioner is a group of private volunteers in the field of crime prevention activities who are commissioned and terminated by the Minister of Justice, providing counseling guidance, job placement, and financial support for criminals, including youth subject to prosecution with a conditional prosecution and those subject to crime vulnerable. By signing an agreement with Ewha Womans University for the first time, the Association of Law Sarang Seoul Southern District Association of the Ministry of Justice, aims to meet the diverse needs of trainees with a high proportion of women through the pool of instructors with expertise, solve social problems, and contribute to the local community.
The center focuses on strengthening the competence of the Law Sarang commissioners through professional education by cultivating leadership and confidence, and by acquiring systematic and professional knowledge in youth leading protection and crime prevention activities. In particular, the school's faculty were organized in various ways in the curriculum to provide professionalism and in-depth education.
Starting with a lecture on ⌜Understanding Basic Laws and Our Lives⌟ by Young-min Jang, professor emeritus of the Department of Law, Professor In-Soo Oh's ⌜Counseling Techniques for Deviated Youth⌟, Yu-kyung Han, President of Graduate School of Education and Head of School Violence Prevention Research Institute ⌜ Trends and Violence in School Lectured on roles and understanding⌟ for prevention were presented. In addition, the Ewha Womans University Museum was visited and ⌜Ewha Womans University's history and traditional culture⌟ from Jang Nam-won's art history professor and museum director was also presented.
This training is held for 2 hours every Monday evening for a total of 12 times until December 3rd (Thursday).