Ewha Edutech Convergence Lab, signed MOU with the ROK Army Training & Doctrine Command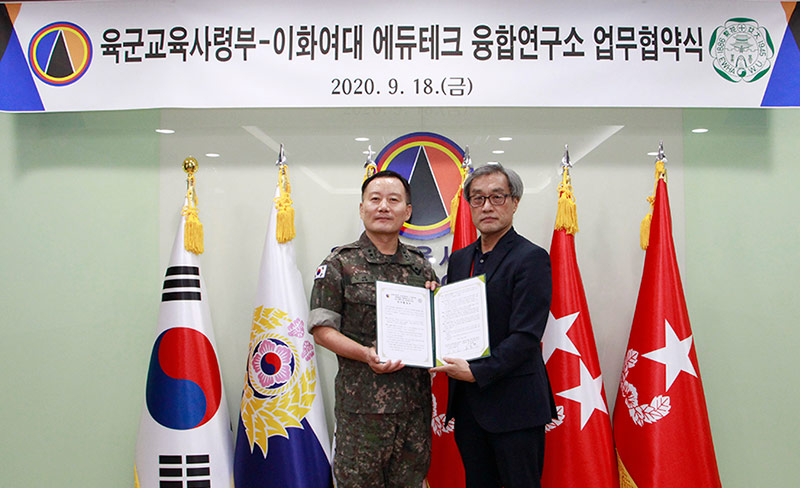 Ewha Edutech Convergence Lab(director: Professor Il-Hyun Jo) and MOU with the ROK Army Training & Doctrine Command(Major General Tae Sung Kim) signed MOU on September 18 (Friday) agreeing to cooperate for enhancing the ROK Army's training and research by incorporating Edu-Tech.
The ROK Army Training & Doctrine Command is the military education and training command, which fosters future forces on behalf of military training schools. The Command performs various functions such as supporting the Army's military trainings, enhancing leadership policy development, conducting military and division-level combat command training, and reinforcing the information system based on scientific data.
Ewha Edutech Convergence Lab was established in 2018 to lead the "Edu-Tech" by expanding advanced educational technology to promote 4C competencies (Collaborative, Critical, Creative, Communicative), which is essential in the era of the 4th Industrial Revolution. The Lab has promoted various convergence research such as data-based learner modeling research applying learning analysis, and creating a teaching-learning model for educational innovation, Edutech-based vocational training model. In particular, as the Lab is selected as the "2020 Institute Programs in the Humanities & Social Sciences" supported by the Ministry of Education and the National Research Foundation of Korea, it has actively conducted various research including "Development of K-PBL(Project-based learning) teaching-learning model based on Edu-tech."
"With the MOU, the Command will be able to scientificize the military exercises and to conduct state-of-the-art military exercises by applying ICT technologies such as virtual reality (VR), augmented reality (AR), and artificial intelligence (AI)," proudly said Professor Il-Hyun Jo, the director of the Lab.