Start-up club 'Han-geut' from Center for Entrepreneurship Got Selected as the Final 12 team of the 2020 GSIC Program Hos
Start-up club 'Han-geut', which participated in the entrepreneurship program at Ewha, was selected as the final 12 teams in the 2020 Global Social Innovation Challenge(GSIC) program hosted by University of San Diego in the U.S. and won the "Social Change Award". Unlike the previous GSIC events that were held at the University of San Diego, this year's event was held online due to the COVID-19. More than 50 teams from 15 countries and 28 universities around the world participated in the preliminary and final round, and with a heated competition, the 'Han-geut' team was named on the list for the final round.

The GSIC program has been hosted by the University of San Diego for three years internationally to foster social venture and global innovative talent to create social values and solve social problems. It is a program that allows college students around the world to participate in the process of understanding and problem solving toward 17 sustainable development goals agreed upon by 193 leaders at the UN summit in 2015. Ewha has been participating for two years until 2020. Ewha is the only university in Korea that participated in the GSIC in 2020.

'Han-geut' team (Jungeun Lee, Haneul Lee, Yuri Kang, Juhee Lee) runs a mobile Korean language education service 'Hangler', in which blind instructors teach Korean by phone to foreign students. This student startup aims to create jobs for people with visual impairment. 28.7% of the population of people with visual impairment workers are focused on the employment of massage therapist (2018, Korea Employment Agency for Persons with Disabilities). As there is desire for choice of different jobs, the government's project which is currently focusing on fostering massage therapist with the aim of simply increasing the employment rate is not enough for the solution. This was motivation for the start-up club 'Hangeut' to find a solution and create a new platform.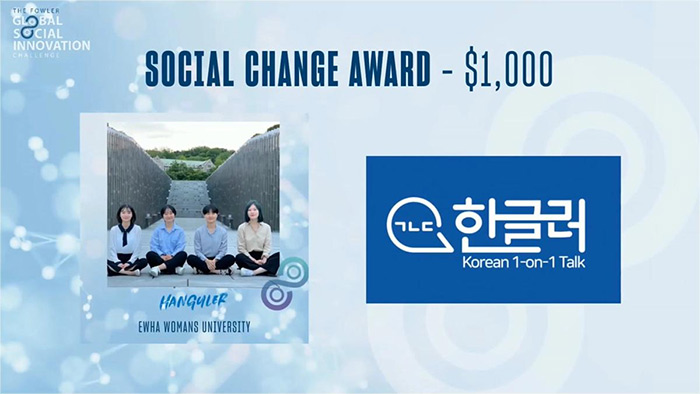 Members of 'Hangeut' team have continued various activities related to start-up projects such as taking courses in entrepreneurship related courses, start-up related courses and participating in start-up support programs under the supervision of the Ewha center for entrepreneurship.

Professor Junkyu Lee, vice president of Ewha center for entrepreneurship said, "A growing number of students are interested in and participating in start-ups through various start-up support programs at the center for entrepreneurship. In particular, students at Ewha are highly interested in solving social problems and many students have excellent English communication Skills in GSIC programs. We hope students to develop their abilities through experience in starting their careers".