Professor Jinbyung Park's Team of Food Science and Engineering Major Develops Cutting-edge Bio-material Production Techn
Graduate students led the publication for the most prestigious journal in the field of biochemistry.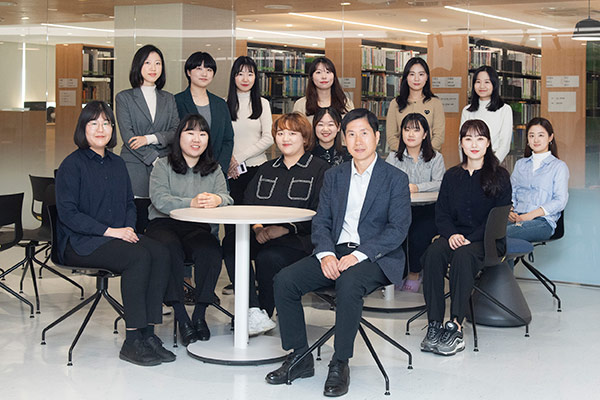 A research team led by Jinbyung Park, professor of food science and engineering, has developed a bio-transformation technology that can produce cutting-edge bio-materials such as medium fatty acids, amines and alcohol from natural resources like vegetable oil. The study, which was conducted jointly with Delft University of Technology in Netherlands, University of Greifswald in Germany, and Konkuk University, is more meaningful in that it was led by students in the master's and master's and doctoral program at Ewha.
According to Professor Park's team, biomaterials are widely used in the production of various consumer products including food, cosmetics and household goods, as well as the production of the finest medicines due to their superior biocompatibility and safety compared to chemical synthetic materials. Also, medium chain fatty acid is also expected to play a significant role in solving the plastic waste problem as it can be used to manufacture biodegradable bio-plastics.
Previously, strong acid or ferric acid, toxic organic solvents and metal catalysts were used at high temperatures and high pressures of 400 to 500 degrees Celsius or higher to produce medium chain fatty acids, amines and alcohol from natural resources such as vegetable oil. However, the use of 'biological conversion technology using enzymes' developed by Professor Jinbyung Park is considered an eco-friendly, low-energy and clean technology as it can produce target products at high rates while using water as a solvent at room temperature. It has opened the way to produce optically active alcohol, amine compounds and medium chain fatty acids that can be used for more sophisticated manufacture of biodegradable bio-plastics at a high rate.
The research paper was published simultaneously in several of the most prestigious journals in bio and chemical fields. The biosynthesis study of optically active alcohol from long chain fatty acids, the main ingredient of renewable plant oil or marine lipid, was published in the international journal Nature Communications (IF: 11.880) on May 7th. Also, it was published in the leading journal Angewandte Chemie International Edition (IF: 12.257), volume 59, no.18. of the field of chemistry and bio. In addition, the biosynthesis study of medium chain fatty acids from long chain fatty acids was published in the American Chemical Society's international journal ACS Catalysis (IF: 12.221), volume 10, no. 9.
In particular, Junghoo Lee, a researcher in food science and engineering major, and Heejung Cha participated as first authors of the paper published in Nature Communications and Angewandte Chemie, while Seyeon Hwang, Dasom Lee and Yoonjin Baek participated as co-authors. For the paper published in ACS Catalysis, Eunji Seo, Eunyoung Jeon, and Goeun Choi participated. This study led by students in master's and master's and doctoral programs shows the potential of ELTEC College of Engineering which is greatly contributing to fostering professional female workforce in the cutting-edge bio-material biosynthesis field. In addition, at Ewha, not only graduate students but also undergraduate students participated in the study with their academic advisors and graduate students, publishing papers in renowned academic journals around the world.
Professor Jinbyung Park's team conducted the research with support from the National Research Foundation of Korea's mid-sized research scheme, the Marine Fisheries Biotech Technology Development Project of Ministry of Oceans and Fisheries, academic research project of Ewha and the Ewha Rising Fellow project.