Undergraduates of ELTEC College of Engineering Publishes Paper in SCIE-level International Journals N
Excellent results with professors and graduate students... developing eco-friendly hydrogen energy catalyst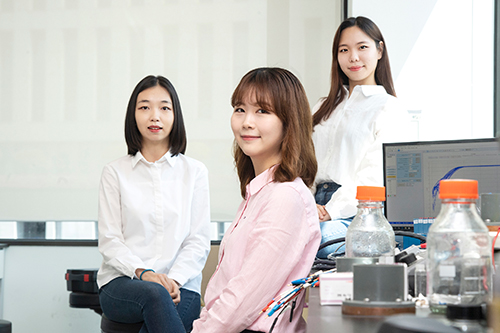 (from the left) Dongyeon Bae, Hyeyoung Jeon and Hakyung Kwon who participated as co-first authors of the paper
Hyeyoung Jeon, a chemical engineering and materials science major at ELTEC College of Engineering conducted a research with master's and doctoral program students Hakyung Kwon and Dongyeon Bae (adviser: Sooyeon Cho) under the theme of 'Resolving Environmental Problems through Research of Two-Dimensional Electrochemical Catalysts for Hydrogen Production'. The results of the research were recently published online in the SCIE-level international journal Applied Science (IF=2.217) with the title "Basal-Plane Catalyst Activity of Layered Metallic Transition Metal Ditellurides for the Hydrogen Evolution Reaction."
The research is drawing attention as it is about the development of catalyst materials that can produce eco-friendly and sustainable hydrogen energy economically amid the serious environmental pollution problems such as global warming and increased fine dust concentration in the air. The team found that promising stratified metastatic transition metal ditelluride materials act as hydrogen-generated reaction active catalysts due to distinct catalytic activity in basal-plane. They thereby presented important factors that improve the distinct hydrogen-generated reaction performance and showed the potential to develop into economically feasible next-generation hydrogen energy catalysts of two-dimensional materials.
In particular, the research is more meaningful because it was conducted with the support of the 'Women's University (Graduate) Student Engineering Research Team System Support Project' in 2019 by Korea Center for Women in Science, Engineering and Technology (WISET). Engineering research support project is a program that helps graduate students majoring in engineering become research managers and perform self-directed research tasks to strengthen research capabilities, enhance leadership and grow into talented scientists. In line with the purpose of the program, Hakyung Kwon, the research manager, teamed up with an undergraduate, Hyeyoung Jeon through the research team system. They carried out research together and produced good results. This illustrates Hyeyoung Jeon's leading participation in <Advanced Chemical Engineering and Materials Science Lab>, a seasonal semester class that will be held for the chemical engineering and materials science major and developed into a paper with graduate student mentors Hakyung Kwon and Dongyeon Bae.
In particular, Advanced Chemical Engineering and Materials Science Lab course offers hands-on research experience during vacation under the leadership of professors' lab and was newly established in 2018 with support for specialized projects. So far, a total of 62 students have conducted self-directed research through this class, resulting in excellent performances such as presentations at international academic conferences and bachelor's degree graduation thesis.
Hyeyoung Jeon, who participated in the study as an undergraduate student, said, "Things felt unfamiliar at first because I had no internship or lab experience but I was able to have a good time with the guidance of seniors and professors and I want to continue studying in a wider area including the hydrogen energy field." Hakyung Kwon who was in charge of research said, "It was a unique experience for a graduate student to carry out research directly as a research manager and team up with an undergraduate student, and I was proud to have a good result because a junior student knocked on the door of the lab first and followed through." Dongyeon Bae who published the thesis together said, "I want to recommend it to juniors who is considering graduate school or going into research because Ewha Womans University has well-organized programs such as internship for undergraduates and advanced experiment classes."