The 2nd Ewha Social Impact Forum Took Place
The Graduate School's Interdisciplinary Program of Social Economy (Head Professor: Joo So Hyun) held the Ewha Social Impact Forum under the theme, "Toward Diversity and Tolerance: Effect of Integrated Innovation for Global Sustainability" at the Lee Sam-bong Hall of the ECC building on January 31.
The first session, hosted by Lee Hye Sun, a professor of design, opened with congratulatory remarks by Ewha Vice President Choi Dae Seok, followed by words of encouragement by Song Hong-seok, the director of the integrated employment policy at the Ministry of Employment and Labor and Lee Hyung-hee, head of SK's social value committee. Then Professor Joo of the Interdisciplinary Program of Social Economy delivered in-depth reports of the program's overall progress. Later in the second session, Lee Sohyun, a professor of special education who is also head of a social enterprise, AutiSTAR, made a presentation showing how diversity and tolerance could solve unemployment for people with disabilities, while Choi Yong-sang, a professor of climate and energy systems engineering explained social economy as a key factor in addressing poverty and disaster through different perspectives. Joo So Hyun, who is also a professor of consumer studies presented diverse social impact cases aimed for diversity and tolerance, followed by review of social economy startup competition and the Social Impact Project of Ewha's Social Economy Leader Course.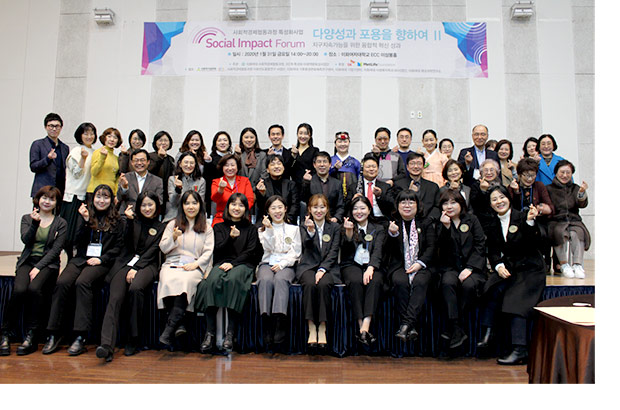 Cho Sang-mi, the director of Global School of Continuing Education and head of Future Capability Promotion Program within the Interdisciplinary Program of Social Economy, who planned this forum said, "We planned this event to boost studies on social impact in the university and to spread it outside." She added, "I hope this forum will be a pivotal setting for diverse endeavors and attempts for social innovation on and off university to be observed and communicated. Also, a place to connect academia, field experts and the public that lead our country's future."
The Social Economy Leader Course of Ewha Woman's University, opened in the second semester of 2017 in the Graduate School, is Korea's first master's and doctorate course in social economy. A total of 14 departments (architecture, business administration, economics, climate and energy systems engineering, design, North Korean studies, social welfare, sociology, consumer studies, pre-medicine, special education, public administration, EcoCreative interdisciplinary program and Ewha Law School), jointly with the Center for Entrepreneurship, have participated in the Social Economy Leader Course. The course has been working hard in linking theory and practice by coordinating integrated classes, domestic and overseas visits and startup competition, publishing "Ewha Social Economy Review" and holding the Social Impact Forum.