2021 Ewha Zero Carbon Forum Held
2021 Ewha Zero Carbon Forum Held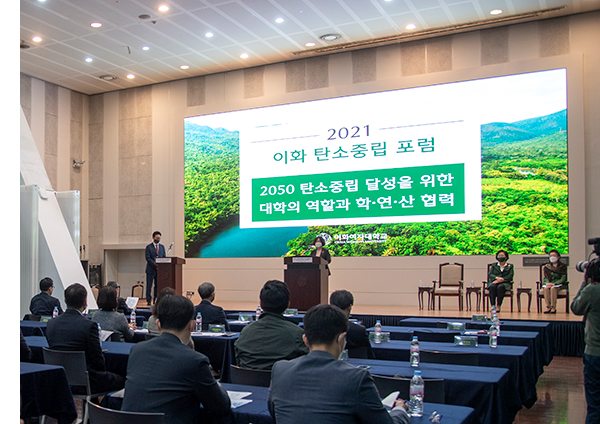 Ewha Womans University hosted the "2021 Ewha Zero Carbon Forum" at the Ewha Campus Complex building at 2 p.m. on Wednesday, October 20. The forum, co-hosted by the Office of Research, the New and Renewable Energy Research Center, and the Center for Climate/Environment Change Prediction Research, and supervised by the Organizing Committee for the Ewha Zero Carbon Forum, was held to share and discuss policies in the fields of energy, climate, environment, and ESG under the theme of "The Role of Universities and Academy-Research-Industry Collaboration for the Achievement of Carbon Neutrality 2050," and livestreamed on Ewha's YouTube account.
South Korea is consolidating its efforts to achieve its objective of reducing greenhouse gas emissions to achieve carbon neutrality, by declaring the 2050 Carbon Neutral Vision through the long-term low greenhouse gas emission development strategies submitted to the United Nations in December, 2020, and promulgating the Framework Act on Carbon Neutrality and Green Growth in September, 2021 in response to the climate crisis.
Ewha has been at the forefront of climate change research by establishing the Climate and Energy Systems Engineering major in 2017, conducting world-class research through the Center for Climate/Environmental Change Prediction Research as a university priority research institute in science and engineering, and advancing the development of international climate risk management models. The school also plans to further reinforce its leading role in the ESG field, starting with this forum.
The opening ceremony commenced at 2 p.m. with an opening address by Lee Hyang-sook, Vice President of the Office of Research and President of the Ewha University-Industry Collaboration Foundation, and was followed by a welcome speech by President Kim Eun Mee, a video congratulatory remark by Minister of Science and ICT Lim Hye-sook, and a congratulatory speech by Chairwoman Yoo Young-sook of the Center for Climate/Environment Change Prediction Research Board of Directors.

President Eun Mee Kim remarked, "One of the United Nations' Sustainable Development Goals that humanity must achieve by 2030 is to respond to climate change, and carbon neutrality is expected to become the most important topic of this era after the COVID-19 pandemic is over," and added, "Through this forum, we hope to solidify Ewha's status as a creative innovation platform that fosters global leaders, consolidates researchers' capabilities, and leads a sustainable society." Subsequently, Minister of Science and ICT Lim Hye-sook emphasized, "Universities will take on an expanded role as a starting point for nurturing innovative talents and R&D capabilities to develop carbon-neutral technologies. The government will also explore various policies to expand the role of universities in innovations regarding carbon-neutral technology and accelerate academy-research-industry collaboration."

Following the opening ceremony, keynote lectures were given from 2:30 p.m. by Chairman & CEO Lee Dong-gull of Korea Development Bank on the topic of "Carbon Neutrality and Korea Development Bank as a Green Bank," President Kim Jong-nam of the Korea Institute of Energy Research on "The Role of Technologies for Carbon Neutrality," and President Yoon Je-yong of the Korea Environment Institute on "Transformation and Journey toward a Carbon-Neutral Society." Through these keynote lectures, the speakers offered insights on the importance of carbon neutrality and their respective institution's strategies to ensure a clean and sustainable future.

The second part of the forum opened with a topic presentation by Professor William Jo from the Department of Physics at Ewha and followed up with a discussion session, chaired by Professor Choi Yong-sang from the Climate and Energy Systems Engineering major, on methods and solutions to achieve carbon neutrality through academy-research-industry collaboration.
Based on its top-tier research achievements, Ewha will continue to strive to discover leading research fields and future-oriented challenging research fields under the vision of "A Creative and Innovative Platform Leading to a Sustainable Society," and strengthen the support system for cultivating global female leaders.