"Ewha Frontier 10–10 Project" to Lead the Future of Ewha
"Ewha Frontier 10–10 Project" to Lead the Future of Ewha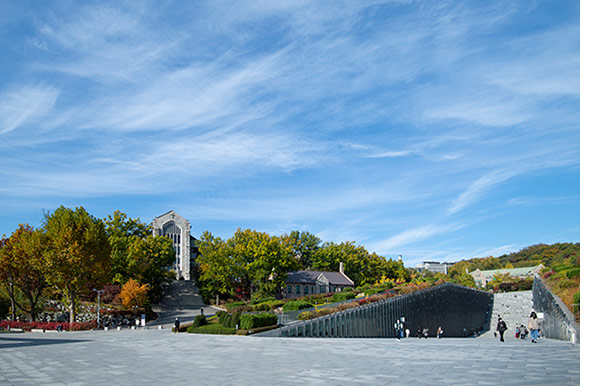 Ewha Womans University announced the "Ewha Frontier 10–10 Project" to select a total of 20 project teams consisting of 10 teams each in leading research fields and future-oriented challenging research fields for its leap toward as a world-class research-oriented university on Tuesday, October 5.
The "Ewha Frontier 10–10 Project," aimed at enhancing Ewha's competitiveness and consolidating its status as a research-oriented university under the capable leadership of President Eun Mee Kim, represents a core task for Ewha's main objective of "Establishing an Environment Conducive to World-Class Research" under "Ewha Vision 2030+." The project will be implemented with the aim to enhance Ewha's external reputation by supporting leading and promising academic fields, securing outstanding faculty members, and generating innovative research outcomes. Based on the project, Ewha plans to solidify its status as a research-oriented university with world-class research capabilities.
Ewha will select up to 10 project teams respectively in "leading research fields" and "future-oriented challenging fields," which are areas with global competitiveness, and support each team with funding of 2 to 5 billion KRW for a total of three years. The selected project teams will conduct leading research with full support, such as the invitation of renowned scholars or outstanding faculty members, support for new researchers and graduate students, expansion of research environment and infrastructure, and support for international joint research and globalization.
Through the project, Ewha plans to pioneer its own growth and prioritize future-oriented academic and research fields as well as establishing an environment conducive to world-class research based on its tradition of academic diversity encompassing liberal arts, social studies, arts and physical education, and convergence fields. The evaluation for project selection will be conducted between November and December, and the project's full-scale implementation will commence in March 2022. Detailed information can be found in the project announcement by each college (or graduate school).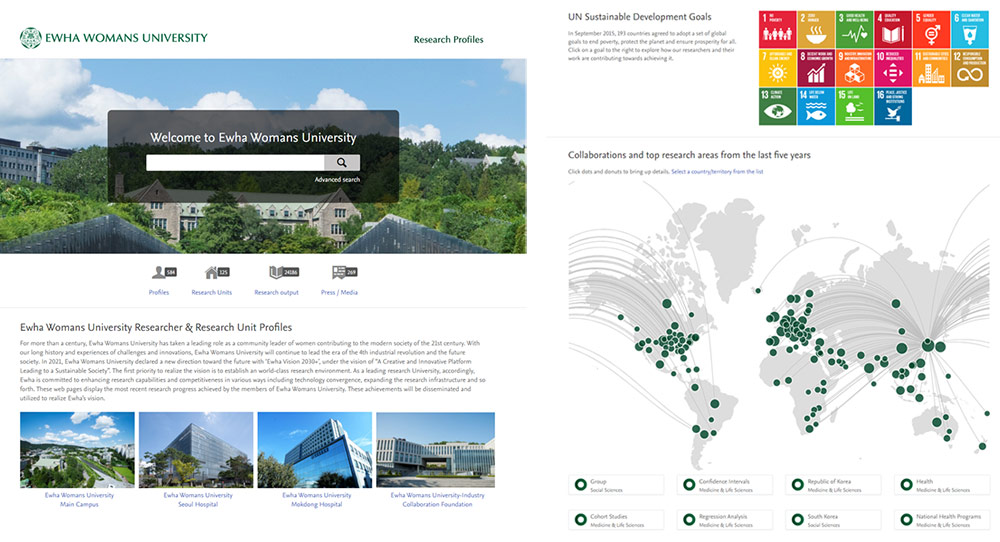 Meanwhile, the Office of Research officially launched the "PURE service" (https://ewha.elsevierpure.com/) to disseminate and promote Ewha's excellent research achievements. The service is a web-based solution provided by the global academic information analytics company Elsevier and is tailored for the promotion of research achievements and the implementation of marketing strategies by enhancing researchers' convenience by providing the comprehensive management of research activities and achievements, visual research statistics based on a vast international academic database such as SCOPUS, and performance analysis sample reports for individual researchers or groups.
Anyone who is interested in Ewha's research performance and achievements can search for paper publication records, research activities, related statistics, and keywords by individual researchers on the PURE service's official website. The launch of this service will enable the effective management of various research performance and achievements of individual researchers on a single platform.
Vice President Lee Hyang-sook of the Office of Research remarked, "We expect that the PURE service will contribute to increasing the possibility of international joint research and convergence research in collaboration with the world's leading research and academic institutions by maximizing the publicity and dissemination of our research achievements online, and enhancing the convenience of obtaining basic research performance data and reporting materials necessary for applying for and implementing external research projects."