Ewha Womans University Museum Becomes First to Adopt "AI Humanoid Docent" in South Korea
Ewha Womans University Museum Becomes First to Adopt "AI Humanoid Docent" in South Korea
Ewha Womans University Museum adopted an AI docent to serve as a guide for its collection and launched a permanent online exhibition titled "Masterpieces from Ewha Womans University Museum (https://masterpieces.ewha.ac.kr)."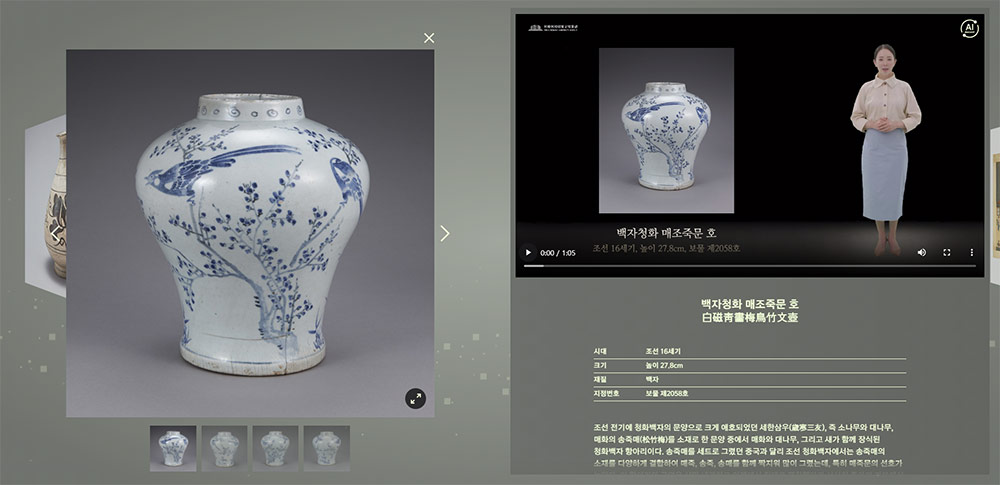 Although there have been previous cases in which museums and galleries in Korea had adopted service robots to explain exhibits and provide guided tours around exhibitions, or developed exhibition guide apps using Bluetooth beacon technology and AR characters, the Ewha Womans University Museum became the first in Korea to adopt an AI humanoid character (AI avatar) that closely resembles a real person through organic integration with deep-learning technology.
The museum was originally founded in 1935 and holds two national treasures, 22 state-designated cultural properties and 23,000 artifacts. A total of 150 major artifacts from the collection will be made available to the public as high-resolution images in the permanent online exhibition, while national treasures such as the Jar with the Grape Vine Design in Underglaze Iron and the Jar with Inscription "the 4th year of Sunwha" and 21 treasures will be introduced by the AI docent.
Visitors from Korea and abroad were previously able to enjoy exhibitions guided by student docents before the COVID-19 pandemic, but now that the pandemic has made it difficult to offer in-person exhibition guides, the museum had been regretting the subsequent lack of interactions among visitors, docents, and curators. Therefore, it required new online spaces and globalization strategies in response to the COVID-19 era so that overseas visitors, who account for a high proportion of museum visitors who can no longer visit due to the pandemic, are given the opportunity to continue appreciating art and culture. This permanent online exhibition and the introduction of the AI humanoid docent are expected to ensure the safe and enjoyable exhibition of the museum collections for global citizens of the COVID-19 era.