HOKMA College of General Education Holds Online Global Special Lecture "Fork in the Road Post-COVID"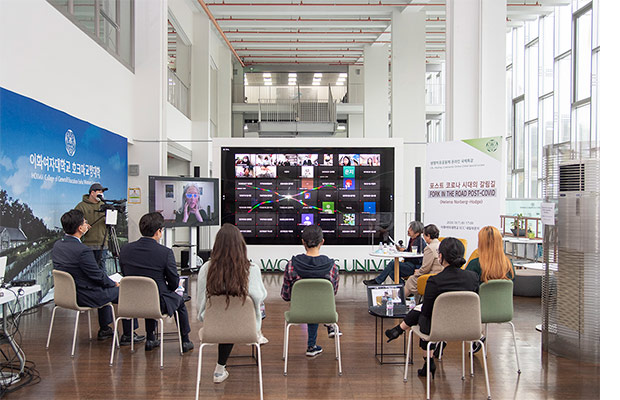 HOKMA College of General Education held a special online lecture on life, healing, and community on October 7 (Fri). Helena Norberg-Hodge, a world-renowned environmental activist who is also known as the author of Ancient Future and Economics of Happiness, gave a speech at the special lecture under the theme of "Fork in the Road Post-COVID."

Professor Shin Hisup of the English Language & Literature Department hosting the event, and President Kim Hei-sook giving a congratulatory speech. | Helena Norberg-Hodge delivering a special lecture through Zoom.
Helena Norberg-Hodge remarked in the lecture that the cause of the disasters that afflict humanity originates from a systemic problem underlying today's society, where all respect for life and the environment has disappeared, as is evident in economic activities based on exploitation of the weak, a homogenized society that lacks diversity, and the global single market. She stressed that the solution to all disasters can be found through "the need for a big picture activism," which urges people to take a step back, look at the Earth, find root causes and look for links within society. She then added that, despite its rapid industrialization, Korea has not lost its willingness to establish connections with nature and communities in the process, so it possesses the ability to present a desirable future direction. Finally, she asked Ewha students to "take a step back" and question the longstanding faults within the system rather than blaming one specific cause for the disaster called COVID-19.
Succeeding Ewha's long tradition of character-building education based on the "Spirit of Sharing," HOKMA College of General Education promoted the development of a new personality education model that responds to social requests for "self-healing," "life sensitivity" and "urban community," and launched the "Life, Healing and Community" program in 2019. "I hope today's special lecture, which was designed to enhance the sensitivity of Ewha members as part of the Life, Healing and Community Program, will give students a chance to reflect on human civilization and think about the transition to ecological civilization," said Chung Jae Young, Dean of the HOKMA College of General Education.
The event, which was held in the form of a two-way livestream connecting the Career Lounge in Ewha ECC and Australia, was attended by a minimum number of participants, including President Kim Hei-sook, Dean Chung Jae Young and Associate Dean Ko Kwang Suk of the HOKMA College of General Education, and Ewha students selected through prior applications. More than 200 students viewed and showed a keen interest in the event, which was broadcast online through Zoom.