EUICF Agreed on Technology Transfer with ICURE BNP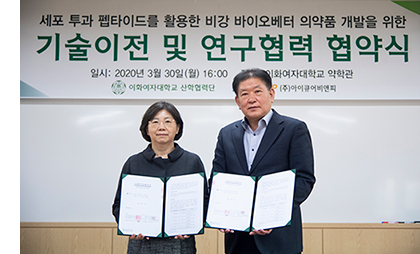 Ewha University-Industry Collaboration Foundation (EUICF) held an agreement ceremony with ICURE BNP on March 30, concluding a contract to transfer the technology of the "nasal drug delivery platform by using cell-penetrating peptides (CPPs)."
This technology was developed by Professor Kyung Lim Lee (College of Pharmacy), introducing a platform that enhances nasal mucous membrane permeability of high molecular drugs by using CPPs. And under this agreement, EUICF and ICURE BNP will set out in earnest to develop biobetters for intranasal administration of injections such as peptides and bio drugs.
Professor Lee's research team has proved that the new technology facilitates drug permeation more efficiently through the nasal cavity when the technology applied to GLP-1 agonist drugs, which are currently used as antidiabetics. They have also verified the possibility of overcoming existing limitations of injections by demonstrating its sufficient hypoglycemic effect through animal testing on intranasal administration. Patents for this technology have already been granted in the U.S., Japan, and Europe, let alone in Korea, and that is expected to secure market share expansion and increase in sales.
"I am delighted to provide clues to develop the platform technology for new bio drugs by discovering human-derived cell-penetrating peptides," Professor Lee said. "We will make every effort to improve the quality of patients' lives and make inroads into global markets through joint research with ICURE BNP, which has a wealth of expertise in developing drug delivery technology."
This agreement has a significant meaning as it was the fruit of "IP–Marketplace in Ewha" event last December, which was held by EUICF to introduce outstanding patents of Ewha and provide a venue for research teams to meet industrial partners, where the research team and ICURE BNP first met. EUICF will make continuous efforts to create a virtuous cycle of making profits and reinvesting in R&D through technology transfer of the university-held patents, which are promising for commercialization, business establishment, university-industry joint research, and employment.