Professor Cho Suyeon Published Thesis in a Prestigious Journal in the Material Science Field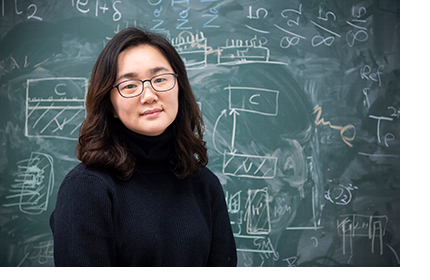 A joint research team led by Professor Cho Suyeon of Chemical Engineering and Materials Science successfully synthesized a new two-dimensional material using electrons which is relatively easy to control. The research dealt with spin control of a two-dimensional material which is considered a semiconductor material of the next generation.
The material is called Vanadium Ditelluride, and its crystal structure is entirely different from existing two-dimensional materials. It shows spin–charge–lattice coupling instead of charge-lattice interaction, and plays an important role in the expression of polymorphism which is known as the unique property of two-dimensional materials. These physical phenomena respond sensitively to changes in the structure of electrons near Fermi energy, demonstrating the possibility of spin control not only with charge, but also with pressure and tension. The research findings show that it is possible to control the magnetism, crystal structure, and electronic structure of materials with simple external stimuli instead of magnetic fields, leaving open the possibility of next-generation electronic elements that use spin.
The research was funded by the National Research Foundation's research support program utilizing major research infrastructure abroad and conducted in cooperation with Sungkyunkwan University and Korea Advanced Institute of Science and Technology. "Polymorphic Spin, Charge, and Lattice Waves in Vanadium Ditelluride" that contains the research findings was published on the website of world's renowned journal of Advanced Materials (IF 25.809) on February 6.
Ewha Womans University, with its first women's engineering college in the world established in 1996 with the vocation of the time of "development of science and technology through nurturing of excellent female engineers," opened Chemical Engineering and Materials Science in 2015 with an aim to cultivate highest-level female professionals who lead the field of chemistry and materials science. Professor Cho joined Ewha's Chemical Engineering and Materials Science in the Division of Advanced Technology as the first alumna professor in 2017 and is committed to research and education.