Health Convergence Professor Publishes Article in JAMA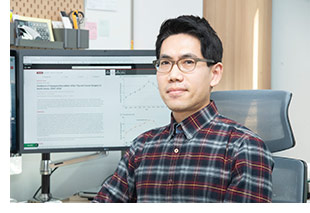 Ahn Song Vogue, a professor of Health Convergence published an article in the world-renowned medical journal JAMA (Journal of the American Medical Association).
In a joint research with researchers from Gachon University College of Medicine and Harvard Medical School, Professor Ahn analyzed the incidence of thyroid cancer, the number and types of thyroid cancer surgeries and the incidence of postoperative hypoparathyroidism in Korea between 2007 and 2016, based on the big data from the National Health Insurance Sharing Service (NHISS) which is operated by the National Health Insurance Service (NHIS) of Korea.
Thyroid cancer had been increasing at a faster rate than any other cancer since 2000 in both Korea and worldwide. Compared with the incidence of thyroid cancer by country in 2012, South Korea showed four times higher incidence of thyroid cancer in men and five times in women than the United States, which is known to be related to high rate of medical screenings. Since 2013, with much heightened awareness of situations like this, new guidelines have been enacted and implemented to encourage more selective thyroid ultrasonography at the time of examining for thyroid cancer, and to revise the criteria for a thyroid fine needle aspiration cytology with suspicious nodules larger than 1 cm in diameter.
The research found that the incidence and the rate of surgeries of thyroid cancer began to decline after peaking in 2013, and that the incidence of postoperative hypoparathyroidism reduced at the same time.
Professor Ahn, the first author of the article, said, "This research is meaningful in that it may influence the national health policy by grasping the status and prospect of the national health level and the medical conduct based on the NHISS big data in line with the Fourth Industrial Revolution trend.