2019 Ewha Future Innovation Festival was Held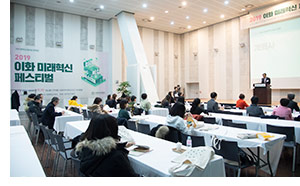 The Center for Future Innovation (Director: Lee Hyunju) held the 2019 Ewha Future Innovation Festival at the Lee Sam-bong Hall of the ECC building on January 9, 2020 to share the educational innovation cases of universities, selected as the Program of National University for Innovation and Transformation (PoINT), and introduce the outcome of THE Talent Cultivation Program run in Ewha Womans University over the last year.
In the festival, which began with an opening speech by Executive Vice President for External Affairs and President of the Office of Education Innovation Choi Dae Seok, President Kim Heisook said, "I hope that this event could present a way towards educational innovation for future talents by sharing the achievements of the PoINT that was conducted over the last year."
Session one began with a presentation on "Innovation of University Education for the Fourth Industrial Revolution" by former President of Chung-Ang University Lee Yong-goo. And then Ewha Womans University, Ajou University, Chung-Ang University, and Hanyang University introduced their educational innovation cases and outcomes resulted from flexible school systems. In the subsequent session, students who participated in the 2019 THE Talent Cultivation Program delivered case presentations and performances.

At the ECC Multipurpose Hall, the Center for Future Innovation, Student Counseling Center, Center for Entrepreneurship, and CORE Follow-up Team made booths to promote their programs and provide counseling to students. Also, the outcomes of self-designed semesters in 2019 were displayed at the hall.