Edae Hak-bo Won the 14th SisaIN Prize for College Journalists
Edae Hak-bo, a student news media of Ewha Womans University (Editor-in-chief: Sunghee Park), won the 14th SisaIN Prize for College Journalists for collaborative journalism with four other student-run newspapers of schools around Ewha.
The prize was made by SisaIN, a current affair weekly, in 2009 to encourage college journalists and facilitate college media outlets. This year, there were 133 pieces of news coverage by student journalists nationwide, and 6 winners were picked for five awards: News Reporting, Photo and Graphic, Media and Video, New Currents, and Special awards.
Edae Hak-bo won the New Currents Award for the article series on youth politics. The New Currents Award is given to innovative news coverage in terms of form or content.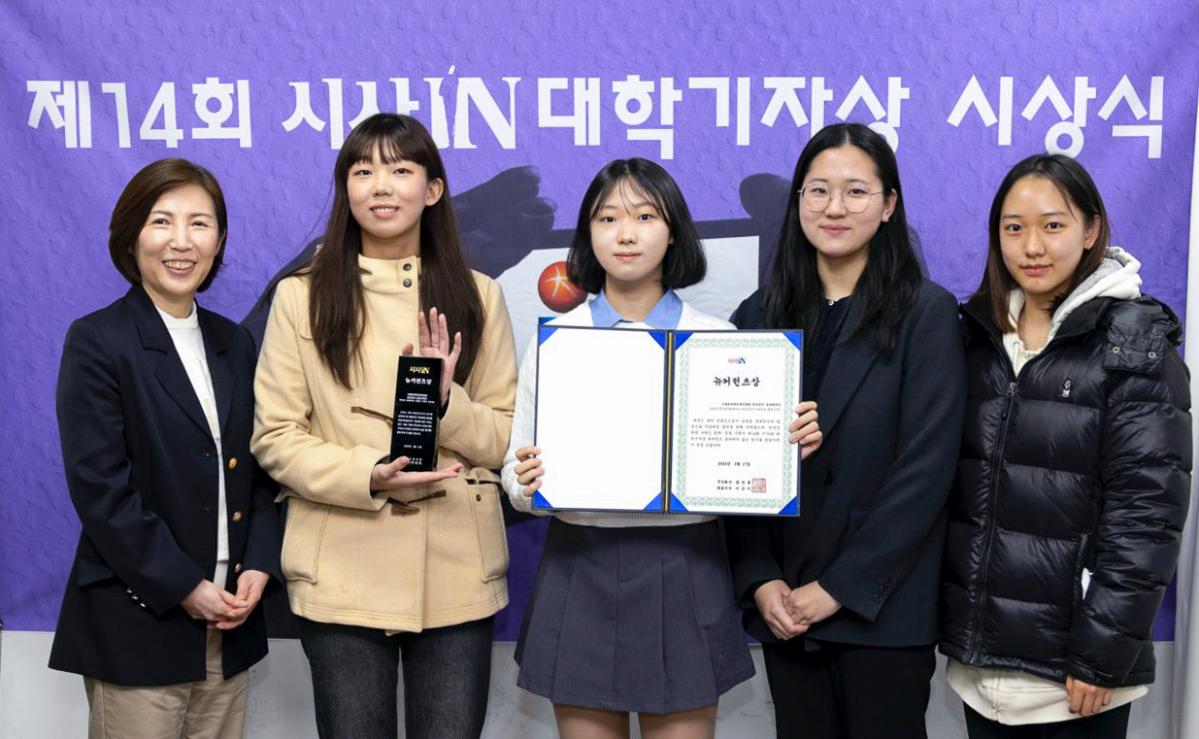 Journalists from Edae Hak-bo at the 14th SisaIN Prize for College Journalists. Executive director Yerin Shin, journalist Soohyun Kim, deputy executive director Yechan Moon, and journalist Yeeun Jung. (Right to left)
The collaborative journalism team of 22 college student journalists from five universities including Ewha Womans University – Myongji University, Sungkonghoe University, Yonsei University, Hongik University, and Ewha Womans University – wrote about the current state of youth politics and what needs to be changed from various perspectives in a series titled "No Country for Youth." Ewha Womans University accounted for the largest part of the team with eight members. The series was published in the 1650th issue (Nov. 7th, 2022), 1651st (Nov. 14th, 2022), and 1652 (Nov. 21st, 2022) of Edae Hak-bo.
[No Country for Youth ①] Voices of the Youth Not Heard – Where is Youth Politics Now?
[No Country for Youth ②] Ignored Youth Politics: Ask Youth Politics to the Youth
[No Country for Youth ③] How to Make Politics of the Youth, by the Youth, for the Youth Possible?
Judges said that the attempt to form a large team of collaborative journalists was remarkable. "Youth politics topped the agenda in the local election season last June, but after the elections, established politicians drove young politicians out of the game, and now the youth is almost forced to be happy with being just a voter, not a candidate for elections. In this context, gathering news about innovations for youth politics in the parliament and collecting wisdom from student journalists from various schools to write about the issues of the community deserved a high score," commented Professor Seong Choul Hong from the Department of Journalism & Media at Kyonggi University.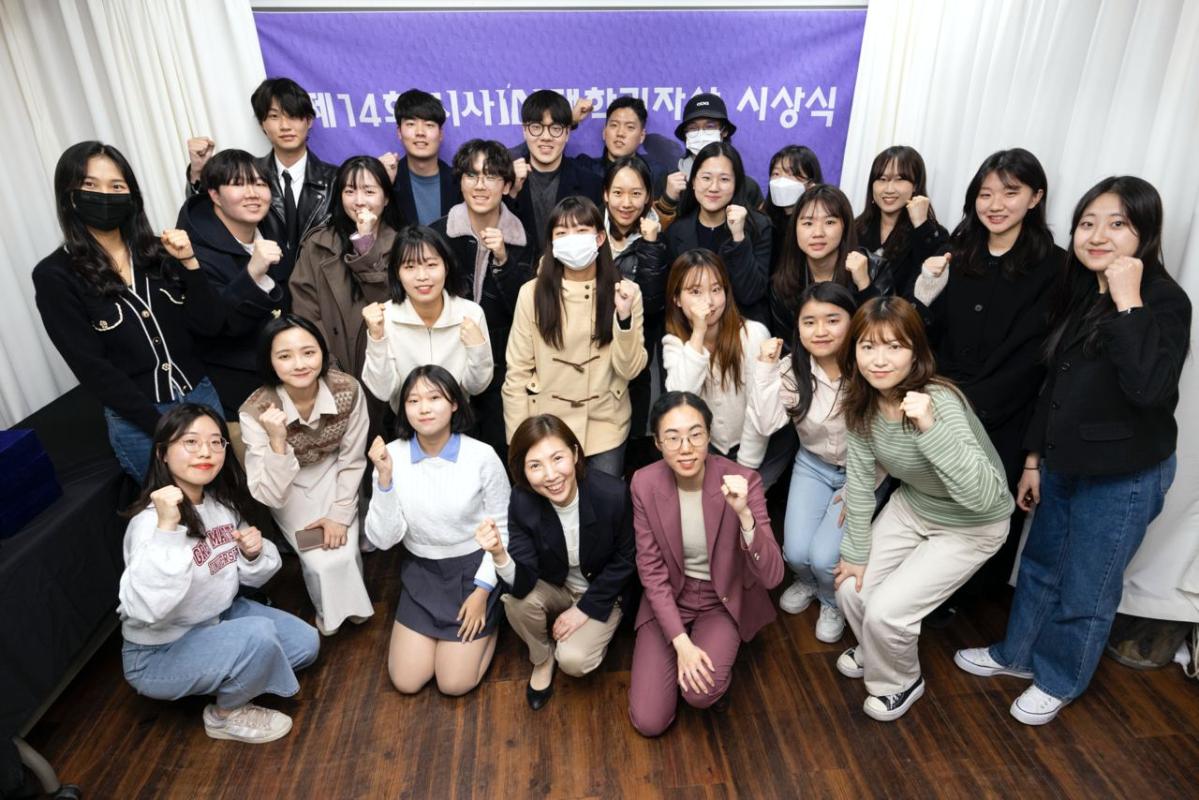 Journalists from Edae Hak-bo, HIU Press, MJU Press, SKHU Media Center, and The Yonsei Chunchu collaboratively covered the article series titled "No Country for Youth"
The award ceremony took place at the newsroom of SisaIN at Jung-gu, Seoul on March 17th and the winners received the trophies and 1 million won. "Collaboration was not easy, because we all have different working styles and different viewpoints on what makes good journalism, but I think it was really meaningful for me to share each other's thoughts and question ourselves to write better articles," said Yerin Shin, the executive director of Edae Hak-bo. "Edae Hak-bo will never stop questioning and never stay complacent," she added.
Edae Hak-bo, a representative media organization supported by Ewha Media Center, is a highly trusted news outlet and training center for its high-quality journalism because students engage in every part of the newspaper production process from planning and newsgathering to editing. Edae Hak-bo received Photo and Graphic Award in 2018 and News Reporting Award in 2020 from SisaIN as well.