Suyeon Paik, Se-eun Park, and Lee-won Kim from the Department of Convergence Contents Winning the Grand Prize at the 202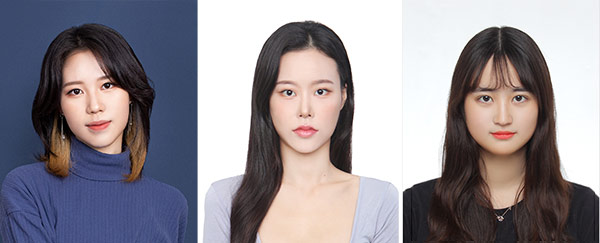 (From left) Suyeon Baek, Seeun Park, and Yiwon Kim
2024) from the Department of Convergence Contents won the grand prize at the '2023 Incheon Tourism & MICE Academic Festival University Student Idea Contest' jointly organized by the Hotel and Restaurant Management Section of the Korean Tourism Association and the Incheon Tourism Organization.
The '2023 Incheon Tourism & MICE Academic Festival University Student Idea Contest' is a competition for domestic and foreign university students to submit ideas for tourism development linked to Incheon Metropolitan City or the region to discuss future-oriented customized tourism strategies and revitalization plans for the region.
Ewha student team proposed 'Maru', a wellness and healthcare service app for seniors that utilizes Incheon's tourism resources. 'Maru', which offers Incheon walking destination recommendations, step-based digital healthcare services, and a traveler community as its main features, was recognized for its creativity and efforts by winning the grand prize for bringing a new perspective to the tourism sector.
The team designed 'Maru, an app for walking tours' for seniors as part of a team project in <UI Design>, a major class in the Department of Convergence Contents (supervisor Jung Seung-eun), and submitted it to the 'Research Festival' held by the New Industry Convergence University to promote interdisciplinary convergence projects. At the recommendation of Professor Seo Sun-hee (Department of Food and Nutrition), who saw the potential of the idea, they decided to participate in the competition and achieved excellent results by further developing a plan to revitalize tourism in Incheon.
"I would like to express my deep gratitude to Professor Seung Eun Jung for teaching us to plan and design services from the user's perspective in the <UI Design> class," said Ms. Baek, and Ms Park said, "I was worried because the other teams in the final round were all students from tourism-related majors, but I think the fact that we were able to refine our ideas from the unique perspective of the Department of Convergent Content led to good results," adding, "Above all, I would like to thank Professor Seo Sun-hee for providing a great opportunity for students from other departments." "I was honored to gain valuable experience and awards thanks to my good teammates and professors, and I will strive to create better content based on them," said Kim.
The Department of Convergence Contents at the College of New Industries fosters students' creativity through steady research and education, and supports students' coursework not only in the classroom, but also in various career activities such as interdisciplinary projects and external competitions.