Hosting a training program in Korea for Korean language teachers in primary and secondary schools in Thailand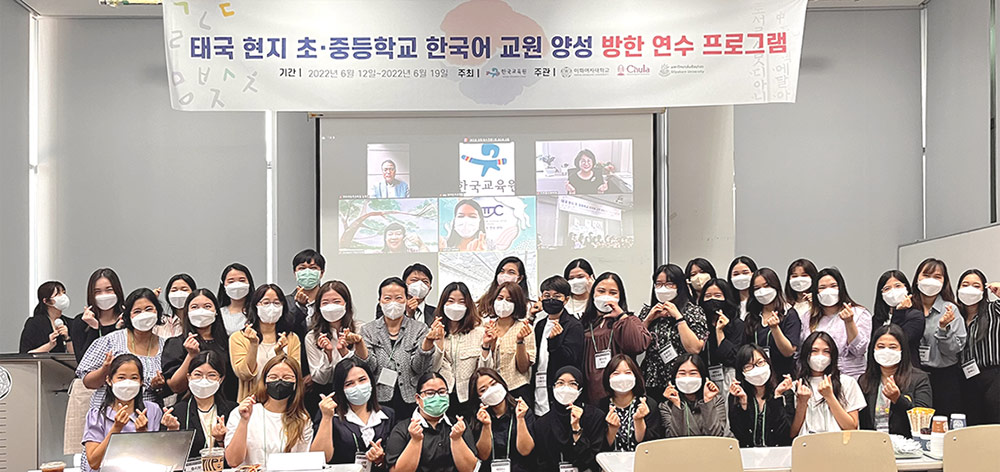 The opening ceremony of the training program for Korean language teachers at primary and secondary schools in Thailand was held successfully at ECC B146, 10 a.m. on June 13 (Monday). The opening ceremony was attended by 34 Thai Korean language teachers and prospective teachers who were selected after participating in the 2020 Thai Korean language teacher training course. Director Young-Jin Kim of Korean Education Center in Thailand, President Hae-young Lee of King Sejong Institute, Professor Sun-hee Park of Ewha Womans University, Professor Supaporn Boonrung of Chulalongkorn University, and Professor Sirirat Sirinat of Silpakorn University also attended the ceremony.
In Thailand, 40,000 students are studying Korean as a second language in secondary schools each year, which requires strengthened capabilities and expertise of local Korean language teachers. To meet these demands, Korean Education Center in Thailand, Ewha Womans University, Chulalongkorn University, and Silpakorn University co-hosted a "Training Course for Korean Language Teachers in Primary and Secondary Schools in Thailand." The course was promoted to help local prospective and incumbent teachers acquire basic knowledge related to Korean language education and cultivate Korean language teaching and learning skills by developing and operating non-degree program within Thai universities for Korean language teachers. A total of 34 trainees selected from this program participated in the eight-day training program in Korea from June 12 (Sun) to 19 (Sun). Through this training program in Korea, trainees experienced a variety of useful programs such as Korean language teaching methods, special lectures on Korean culture, educational practice, and cultural experiences.
Sun-hee Park, a professor of Korean Studies at the Graduate School of International Studies and who is in charge of this program, said, "We are happy to conduct a training program in Korea, which has not been held for a while due to the COVID-19 pandemic, and we hope that Thai Korean teachers will cultivate teaching skills and further contribute to the development of Korean education in Thailand."