Ewha "Research Center for AI-based Global New Drug Development" Collaborates with "Microsoft Research Asia (MRSA)"
Ewha "Research Center for AI-based Global New Drug Development" collaborates with Microsoft with the world's best Artificial Intelligence (AI) technology competence
A Ph.D. student of Ewha is also selected as an intern at Microsoft Research Asia (MRSA)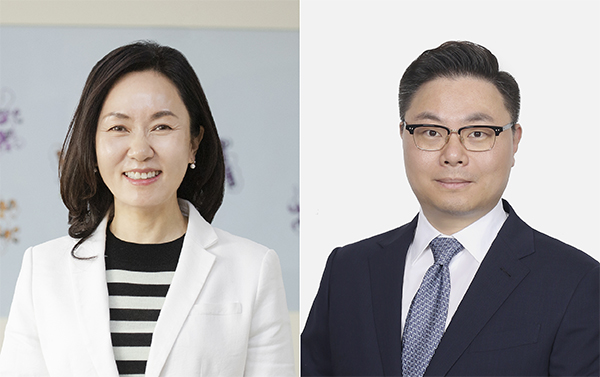 (L) Professor Sun Choi, Professor Woosung Kim

Ewha's "Research Center for AI-based Global New Drug Development" (Director: Sun Choi) is conducting joint research and cooperative project with Microsoft Research Asia (MSRA), the center with the world's best Artificial Intelligence (AI) technology competence, for the first time in the medical field in Korea.
MSRA announced that funding for research will be given to the "Research Center for AI-based Global New Drug Development" of Ewha College of Medicine, for its two tasks being selected as the 2022 joint research project collaborating with MSRA. Two selected tasks are "deep learning for structure-based drug design considering protein-ligand flexibility" proposed by Professor Sun Choi's team and "deep learning-based antimicrobial drug discovery" by Professor Woosung Kim's team.
The "Research Center for AI-based Global New Drug Development" was established in 2020 by Ewha College of Medicine for the purpose of leading the new drug development industry based on the technology of big data and AI. The center aims to dramatically reduce the enormous time and cost spent on R&D by applying the AI-based research methods in the new drug development industry, which is the classic high-risk and high-return industry, and to discover efficient new drug candidates and investigate their mechanisms.
MRSA, established in 1998 and based in Beijing and Shanghai, is the largest research center of Microsoft outside the U.S. and is renowned for being a world-class research center, working with more than 300 scientists and engineers and more than 300 visiting researchers and interns. Recently, MRSA is focusing on the research on AI technology as a tool to enhance human capabilities, which will be the basis of the Fourth Industrial Revolution, sharing the AI-related research conducted by academic-leading scholars.
The Ewha research team will be conducting a joint research project with MRSA from May 1st (Sun), focusing on the research on AI-based new drug development. Professor Sun Choi's task was also selected by the "Global Major Human Resource Supporting Program" of the Ministry of Science and ICT to be collaborating with global corporations, and her Ph.D. student Sanghee Yoon will be sent to MRSA for six months as an intern. Sanghee Yoon will be working to achieve world-class research results under the joint guidance of academic-leading AI experts in Microsoft and this will lead Ewha Womans University and Microsoft to establish a global network through joint research in close cooperation.
"Based on the research achievements and competence we have developed by successfully carrying out the task of 'AI-based new drug development platform construction' supported by the Korean government, we are grateful for the great opportunity to collaborate with Microsoft which has the world's best AI technology competence, and we will do our best to achieve excellent research result that will lead the global industry of AI-based new drug development," said Professor Choi.