Ewha ROTC Students Win 'the 3rd Cadets English Debate Competition'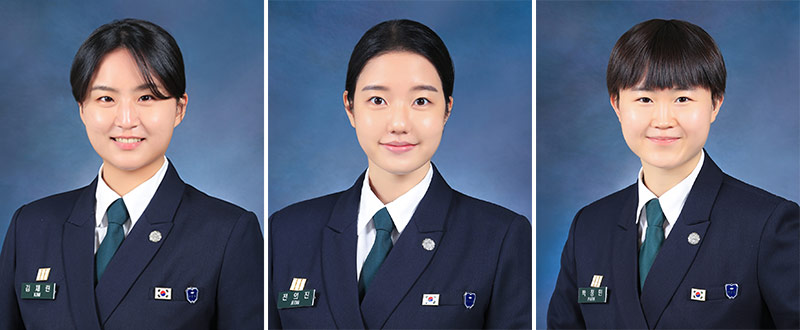 (From the left) Chae-rin Kim, Eui-jin Jeon, Jeongmin Park
Three Ewha Students won the first prize award at the 3rd Cadets English Debate Competition. Chae-rin Kim(International Studies, 19), Eui-jin Jeon(English Education, 19), and Jeong-min Park(English Language and Literature, 21) are the winners who belong to Ewha Reserve Officer's Training Corps(ROTC).
YBM Co., Ltd. and Korea Military Academy have been opening debate competitions for Cadet Corps and College Training Corps for improving their linguistic abilities since 2019. Yet the competition was held in ZOOM due to the pandemic.
A total of 90 participants from 30 teams, including cadets and training corps officers from 10 universities, participated in the competition held on Thursday, May 27th. The participants continued heated discussions on Korea-US Joint Military Exercise(drills) and defense policies. Going through the preliminary round (Military Academy, Naval Academy, Yonsei University ROTC) and the final round (Air Force Academy 1), the Ewha students team won the Superintendent's Award and the YBM CEO's Award for the first prize.
Ms. Kim, Ms. Jeon, and Ms. Park, who are fellow enlistees from the 61st ROTC said, "We are proud, grateful, and happy to be able to achieve good results in the 3rd Cadets English Debate Competition." They went on to say, "We were really happy to participate in the competition with this best cooperation, and we want to thank our seniors, colleagues, and army for sincerely congratulating and being pleased with the results. Also, we are proud to raise the status of Ewha Womans University's ROTC."