Division of Communication and Media Professor and Student Win <Sae'eun-Kim Journalism Paper Award>
Professor Ho'young Yoon and PhD candidate Giyeon Baek Win 'Sae'eun-Kim Journalism Paper Award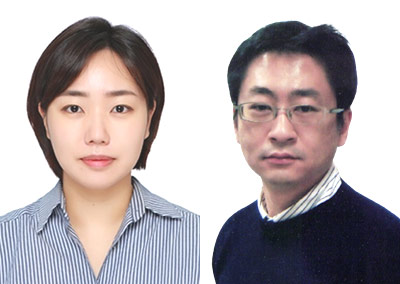 Ms. Jiyeong Baek and Professor Hoyong Yoon
Ph.D. candidate Gi-yeon Baek and Professor Ho-young Yoon of the Division of Communication and Media, have won 'Sae'eun-Kim Journalism Paper Award at the "2021 Spring Regular Conference" held in Yeosu, Jeollanam-do on last June 18 (Friday). The conference was held by the Korean Association for Broadcasting and Telecommunication, also known as KABS. Meanwhile, the winners were awarded with their paper published in Korean Journal of Broadcasting and Telecommunication Studies. The winning paper is titled as "Key Frame Analysis of Network TV News Covering Female Sexual Crime Victims Victimization & Sensationalism of Visual Image."
The Award, which was newly established in memory of Professor Sae-eun Kim's practicing life and research. Professor Kim, former Kangwon National University professor, died of cancer last year. She was known as a prominent thinker and a practicing intellectual who lived 'a journalist-like life even more than a real journalist.' Professor Kim dedicated her life to media fairness as well as conducting research that emphasized the importance of gender diversity to secure democracy and public opinion diversity. She also showed her own conviction not to give in to bigger power but to practice her duties as a true scholar.
About the paper, Dr. Won-sik Hong, chairman of the Korea Broadcasting Journalism Research Institute (Professor of Dongduk Women's University) said that, "We have chosen this paper as it could extend its significance to journalism practice not just for an academic reason."
This paper is the first paper to use Python code and OpenCV and Microsoft facial expression recognition Azure API that the researcher had learned in class, as she is currently taking her doctoral course. focusing on objective narratives by extracting visual images of broadcast news rather than traditional narrative-oriented narratives.
In his acceptance speech, Professor Ho-young Yoon expressed his willingness to carry out continuous research without forgetting the rupture of research and practice that Professor Sae-eun Kim had shown. The Sae'eun-Kim Journalism Paper Award will select winners annually starting this year.