Preventive Medicine Class from the College of Medicine Wins the KDCA Commissioner's Award for their Poster at the 'E-Hea
Preventive Medicine Class of Ewha College of Medicine Wins the KDCA Commissioner's Award at the 'E-Healthcare Studies Conference' for the Poster part
The Winning Paper is titled as "Mediation effects of the growth trajectory and inflammation on the association between prenatal factors and adolescent metabolic risk: Based on Ewha Birth Cohort"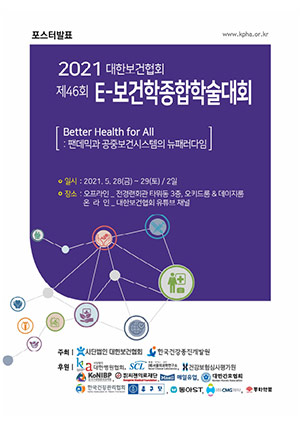 Eui-jeong Kim, Eun-jeong Choi, and Hyunjin Park, who are the Ewha students from the Preventive Medicine Class of the Graduate School of College of Medicine, won the Korea Disease Control and Prevention Agency Commissioner's Award at the 2021 E-Healthcare Studies Contest Poster part.
Marking its 46th anniversary this year, the Healthcare Studies Conference was held for two days from May 28 (Friday) to 29 (Saturday) under the theme of Better Health for All: The New Paradigm of Pandemic and Public Healthcare System. Including the Korea Society of Health Informatics and Statistics(KSHIS), 12 societies participated in the event held online, where poster presentations and student research competitions were held such as "COVID-19 Clinical Dynamics Statistics Analysis and Design" session by the KSHIS.
Ewha Students team presented "Mediation effects of the growth trajectory and inflammation on the association between prenatal factors and adolescent metabolic risk: Based on Ewha Birth Cohort." and won the Commissioner's Award. Eui-jeong kim, majored in Health-convergence Studies under BK21 system mentioned that
"I thank the professor who taught us for the research very much, and we were able to learn a lot with great resources provided by the professor and fellow researchers."
Professor Hyesook Park of the Preventive Medicine School has established an Ewha Infant Growth Cohort and continues to conduct various studies based on the theme of "Effects of fetal growth on postnatal growth and health."
The winning poster was also posted on both the blogs of the 46th E-Healthcare Studies Conference and the KPHA.