Ewha Archives Opens <Kim Okgil> Exhibition
<Kim Okgil> Exhibition Opened for the Centennial Celebration of Kim's Birth from May 17th 2021 - May 14th 2022
In Commemoration of Professor Kim Okgil who emphasized the Autonomy and Responsibility in Education
"If Education is what you stand against the untruth, reduce the greed, and teach and show how to love each other, then still,
we do have hope in education."
-'Education is the Future,' at the 1989 Council of Rotary International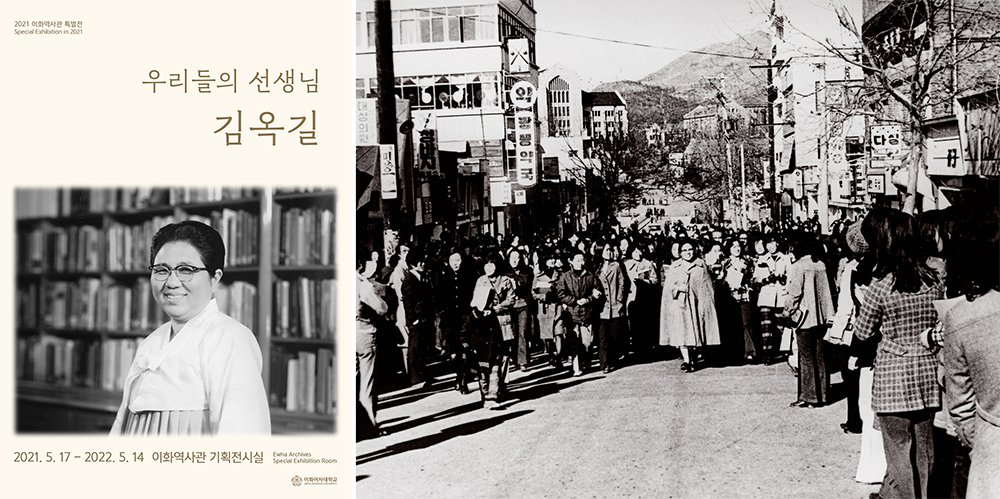 <Kim Okgil> Exhibition Poster / Professor Kim, protecting the student protesters by marching in front of them(1973)
Ewha Archives(Director Prof. Baek, Ok-Kyoung) is opening the <Kim Okgil> Special Exhibition from May 17th 2021 to May 14th 2022. The exhibition is for the commemoration of the Centennial Celebration of her birth(1921-2990). Dr. Kim Okgil, who was the 8th president of Ewha since 1961, and she was one of the greatest teachers and mentors.
Ewha Archives thus plans to portrait Dr. Kim's life retrospectively via this exhibition. Kim was born in Maengsan, South Pyeongan Province in 1921. She graduated from Ewha College in 1943, and studied abroad at Ohio Wesleyan University and the Graduate School of Temple University. Before moving to U.S., she served as a dormitory warden at Ewha. On returning home from the U.S. in 1952, Kim was reunited with Ewha at the school's evacuee campus in Busan and served as an associate professor of the Department of Christian Studies. She was also appointed as the 8th President of Ewha in September 1961. Based on the Christian spirit of freedom and principle, Dr. Kim dedicated herself to fostering Ewha and female education. Furthermore she was appointed as Korea's first female Minister of Education, dedicating her days in office to freedom and principles as a great mentor of Korean society.
The exhibition consists of four parts; <A Student's Prayers for Her People and School>, <In Silent Devotion to Ewha>, <Ewha's Charismatic Leader>, and <A Guardian of Freedom and Principles>. In the first part Dr. Kim's childhood and student life pictures are presented. Under the political, social pressure of Japanese Occupation, young Kim continuously grew her patriosity and love toward Ewha. Through the pictures of graduation, dormitory warden days, days in U.S., and after coming back to Ewha as a professor, we can see Dr. Kim devoted herself to Ewha regardless of chaos and conflicts within history. Moreover when she took office as Ewha's president for 18 years, pictures of herself bringing an era of change to Ewha are presented. She steered the school's growth by inviting talented professors, building educational infrastructures, and adopting internationalization strategies. Leaving Ewha after her retirement, and working as the first female Minister of Education, she contributed to Korean education while emphasizing liberalization and responsibility of education against the bureaucracy. In the last part her pictures of those days when she devoted to Ewha until her very end, when she passed away in 1990.
"I firmly wish this exhibition could be a good opportunity to look back at Ewha history and Professor Kim Okgil's dedication to Ewha. Professor Kim led Women Education in harsh and turbulent days of the 1960s and 70s. She was definitely a great leader who always overcame hardships with her own wisdom and calm, brave attitudes under the Christianity," said Professor Baek, the director of Ewha Archives.
The Archives will be open from 10 a.m. to 4 p.m. every weekday and closed on weekends. For more information, please refer to Ewha Archives website(http://my.ewha.ac.kr/archives/) or contact at the phone(02-3277-3196).