Ewha Selected as Specialized Graduate School for Integrated Environmental Management
Ewha Selected as Specialized Graduate School for Integrated Environmental Management
Ewha Womans University Department of Environmental Science and Engineering and Department of Chemical Engineering and Materials Science were selected as specialized graduate schools for integrated environmental management (IEM) supported by the Ministry of Environment (ME) and the Korea Environment Corporation (K-eco). Accordingly, Ewha will receive education and training expenses and research funds required for fostering professional IEM personnel and conducting basic research projects for the next five years, amounting to 320 million KRW each year (a total of 1.6 billion KRW).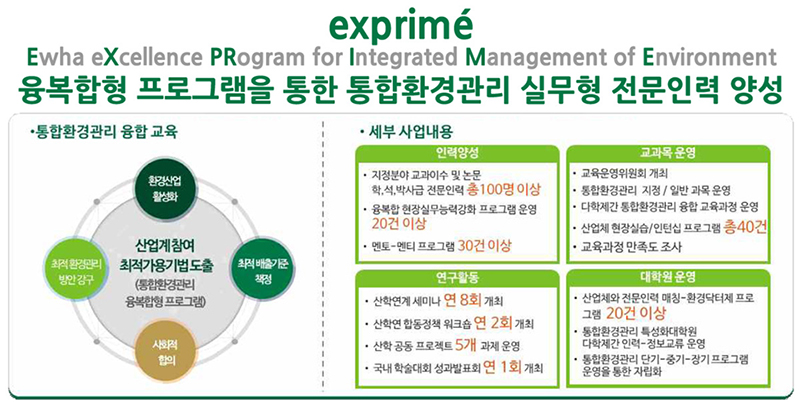 The integrated environmental management system (IEMS) refers to an integrated permit system, which incorporates existing separate permit systems for each environmental media for business sites including air, water quality, soil and waste into a single system. The IEMS is an environmental management framework aimed at minimizing and optimizing pollutant emissions by setting customized standards for each business site. As the IEMS was implemented in earnest in 2017, K-eco operates the "support project for specialized IEM graduate schools" to secure high-quality workers with on-site, practical experience through basic research based on university-industry-research collaboration and hands-on field training.
With this selection, Ewha will begin to operate the specialized graduate school from this September and plans to foster field-specific professional personnel with bachelor's, master's and doctoral degrees in the IEM field. In order to train professional IEM personnel, the Department of Environmental Science and Engineering, which specializes in environmental management, operates a convergence curriculum with the Department of Chemical Engineering and Materials Science. In addition, by carrying out basic research and university-industry joint research related to IEM through graduate school-industry collaborative lectures and on-site job training, the school aims to drive sustainable development based on its research outcomes. To this end, Ewha signed a business agreement with engineering companies including Korea Engineering Consultants Corporation, Kunhwa Engineering & Consulting Co., Ltd. and Seil Engineering Co., Ltd. for fostering IEM professional personnel on June 28 (Mon).

As the principal investigator, Professor Choi Jung-hyun remarked, "As corporations across the world are beginning to pay attention to ESG (Environment, Social and Governance) management, we are deeply pleased to be selected for a project that may contribute to advancing environmental management in companies," and added, "We hope that master's and doctoral candidates and undergraduate students alike will take significant interest and participate in the so-called "Exprimé (Ewha eXcellence PRogram for Integrated Management of the Environment)," a project with the purpose of fostering field-oriented professional IEM personnel through convergence programs.
Talented individuals who complete the curriculum of the specialized graduate school for IEM will become field-oriented integrated environmental personnel who will go out into the field at integrated management businesses and permit agencies. The launch of this specialized graduate school is expected to contribute to the active response to climate change including the reduction of greenhouse gas emissions and job creation for young people in the environmental sector.