The Convenience of the Mobile Life: Launch of a New Ewha App Service
The Convenience of the Mobile Life: Launch of a New Ewha App Service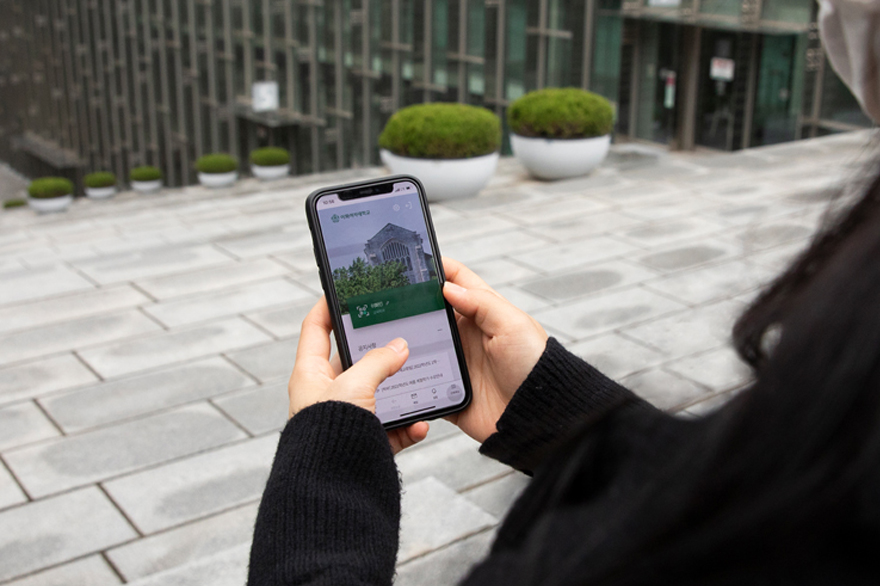 The Office of Information and Communications (led by Vice President Kim Jeong-tae) has established an integrated platform for mobile services and launched a new Ewha app, allowing individualized service from Monday, May 3.
With the increasing demand for the mobile IT services provided by Ewha, the Office of Information and Communication has been advancing the mobile service project from the second half of 2020. The "Ewha Mobile Service Project," which has been carried out over six months since October 2020, was intended to enhance accessibility to various information provided by the school and maximize readability and usability by establishing a mobile integrated platform.
The new app will provide an integrated range of Ewha mobile services such as mobile user name, customized notices, library seating availability, and biometric authentication. Other services include lecture evaluations, scholarship applications, space usage requests, and individual grading inquiries, which provide administrative services often used by students in a format that has been optimized for mobile screens.
The new Ewha app is more convenient to use with biometric authentication log-in (fingerprint and facial recognition) on smartphones in addition to the standard portal username and password. Moreover, mobile IDs can be issued in the Ewha app without the previous method of installing a separate app for the ID.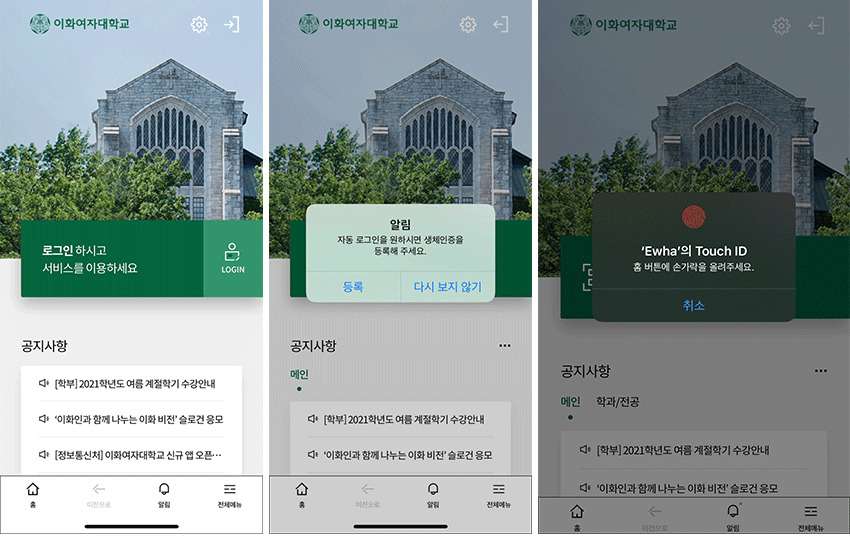 EUREKA is Ewha's online administrative portal service that can also be accessed through the mobile service by adding various menus as bookmarks, in addition to key services that are provided through shortcut menus, such as Internet certificate issuance, portal information system, and the THE portfolio, which can all be accessed through an integrated log-in. In particular, the app is designed to allow students to easily access and submit applications or inquiries through a one-stop service for the key applications and result inquiry programs of the academic affairs system, which entail certain due dates. Moreover, the service provides various information for school life, such as notices, timetables, cafeteria menus, library seating availability, and recommendation banners at once.
The new Ewha app is available to download from May 3 on the Apple App Store for iOS users and the Google Play Store for Android users by searching "Ewha Womans University," or visiting the link below. After the release of the Ewha app, a mobile ID must be issued through new Ewha app for the user to receive push notifications. The use of services through the previous Ewha Home app will be restricted.