Ewha Lifelong Education Institute, Spreads Social Impact through Collaboration with Local Society
Healing with Teachers: The first consignment training course with Seoul Metropolitan Office of Education
The Global Future Lifelong Education Institute (Director Professor Cho Sang-mi) successfully completed its first consignment training for teachers in June with the Education and Training Center of the Seoul Metropolitan Office of Education. Since April, this course has been conducted on a total of 20 rounds of gardening and counseling courses for 51 elementary, middle and high school teachers in Seoul city.
This training was organized to provide teachers with healing and recovery time by utilizing psychological techniques of gardening activities, and to encourage them to apply such techniques to school education. A number of gardening experts, including Shin Sang-ok, the principal lecturer of the institute and chairman of the Korea Horticultural Therapy Association(KHTA), gave lectures and conducted gardening practices with various materials to enhance satisfaction in the process.
Meanwhile, the counseling course was conducted under the supervision of focusing on student guidance and communication with parents, which are the most difficult in the field of education. Starting with Professor Oh In-soo's lecture on counseling techniques, experts from Ewha's counseling psychology department provided in-depth classes to teachers by dealing with counseling techniques, such as use of psychological tests, and counseling practices. The teachers who participated said, "I was able to heal myself through training for the first time in a long time, and it was an unforgettable year of learning because there were many things that I sympathized with."
16 Years of Bonding: Ewha-Gandong Women Academy Collaboration
Since 2005, the institute has successfully operated customized education for female leaders in Gangdong-gu through Ewha-Gangdong Women's Academy, producing a total of 2,249 certificants by 32 semesters this year.
This year's course was conducted under quarantine rules due to pandemic, and at-home programs such as cocktails and wine demonstration classes, online travel, and healthy body building were conducted.
The opening ceremony at Gangdong-gu Office was attended by Lee Jung-hoon, head of Gangdong-gu Office, and Professor Cho Sang-mi, director of Global Future Lifelong Education, and executives of Ewha-gang-dong Academy.
On the other hand, the completion ceremony was held at Ewha Womans University. After the event, participants altogether took a short walk through University's campus, enjoying the beautiful sight of Ewha and sharing the joy of the completion. Through the Ewha-Gangdong Academic program, the institute will contribute to the community through various exchanges with female residents in Gangdong and continue to develop.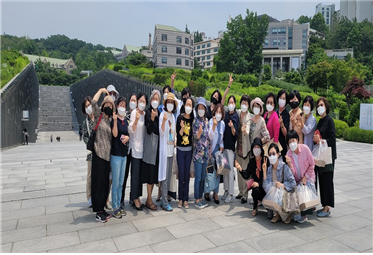 Entrustment Project with MOEL: <Employment Competency Raising Program for Job Seekers> Running Plain Sailing!
The Lifelong Education Institute signed contracts with four job centers; Gwangmyeong, Anyang, Yongin and Pyeongtaek. and secured 300 million won in project costs in 2021 under the entrustment project in collaboration with the Ministry of Employment and Labor. The project is aiming to strengthen employment capabilities as an education program that provides various courses for unemployed job seekers. The program consists of classes that job seekers need to prepare for employment, such as job guidance.
Since starting this year's consignment education, 2,351 students in total have gone through this training until June. Each job center conducted an interim inspection and evaluation of entrusted education in the first half of the year and obtained satisfactory results.
"As it was composed of useful and practical programs, we were able to get practical help," said one of the participants, sending a thank-you message.
Through this education, the Global Future Lifelong Education Institute will help job seekers find jobs with confidence in the second half of the year, and will fulfill their social responsibilities by providing various job paths.