Professor Jo Il-hyun's Research Team Publishes a Paper on Behavioral Patterns of Video-Based Online Learners in a World-
Professor Jo Il-hyun's Research Team Publishes a Paper on Behavioral Patterns of Video-Based Online Learners in a World-Renowned Academic Journal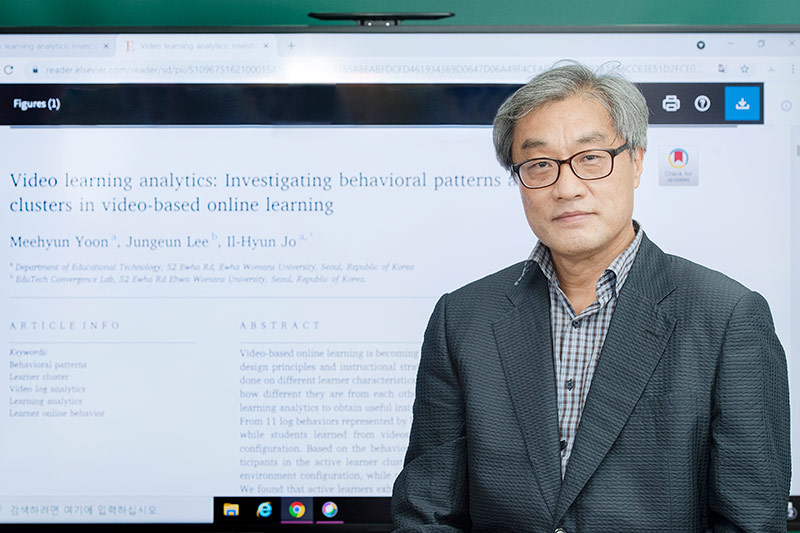 Amid the growing need to establish an environment for online teaching and learning due to the COVID-19 situation, Professor Jo Il-hyun's research team gained recognition by publishing the results of their study on the behavioral patterns of online learners.
In the world-renowned academic journal The Internet And Higher Education, Professor Jo's team published a paper titled "Video learning analytics: Investigating behavioral patterns and learner clusters in video-based online learning," which categorized behavioral patterns of learners by analyzing the big data of video-based online learning settings and analyzed academic performance by category.
The study was conducted to obtain insights into learners' behavioral patterns in video-based learning by employing "learning analytics." Learning analytics is an intelligent convergence edutech that supports teaching and learning decision-making based on the measurement, collection, analysis, and prediction of big data generated in learning activities and contexts occurring in learning environments that are technologically mediated.
The research team carried out one-on-one experiments on 72 college students utilizing "Learning Analytics for Prediction & Action (LAPA)," the EduTech Convergence Lab's self-developed video player, and analyzed learners' log data and academic performance recorded in the process of online learning, along with the learners' general characteristics. The study was significant in both theoretical and practical aspects. First of all, it was theoretically meaningful in that the study identified learners' patterns as demonstrated in the learning process, and automatically analyzed active and passive learners' learning patterns using only log data. The study also gained attention as learners' patterns and categories ascertained through the study offered experimental evidence in enriching the discussion on theoretical models suggested in prior studies.
Professor Jo expressed his high expectations, commenting, "Our findings will allow educators, who are unable to observe learners face-to-face with the establishment of video-based education such as Zoom as the 'new normal' in the coronavirus pandemic era, to understand learners' characteristics in order to apply differentiated instructional strategies and guidelines to teaching learners with different behavioral profiles."
The study was conducted with support from the National Research Foundation of Korea, jointly participated in by Professor Jo Il-hyun (corresponding author), and Dr. Yoon Mee-hyun (first author) and researcher Lee Jung-eun (co-author) at the EduTech Convergence Lab.