[Management] Meet Alumnus Jeon Mi-soon, the First Female Co-pilot for Air Seoul
With a proud history of 133 years, Ewha Womans University has produced alumni with a wide range of careers. This is a summary of an interview with alumnus Jeon Mi-soon (Special Education, graduation class of 2005), the first female co-pilot for Air Seoul.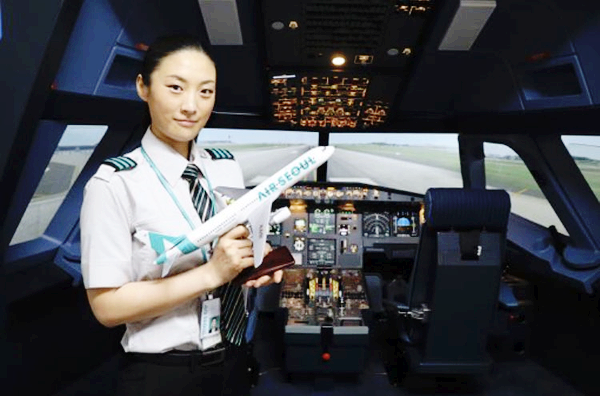 Q. It's nice to meet you. Thank you so much for speaking with us. Please briefly introduce yourself.
Hello, my name is Jeon Mi-soon. I majored in Special Education at Ewha Womans University with the incoming class of 2001. I am currently working as a co-pilot for Air Seoul, a subsidiary of Asiana Airlines.
Q. What do you think makes being a pilot different from other occupations?
Pilots must consistently evaluate the flow of energy in the cockpit in order to fly safely. They always have to ask themselves, 'How can we manage the energy to fly safely in weather like today's?' In fact, energy management is applicable in all occupations, but I believe that for a safe flight, a pilot really has to observe global energy to manage the airplane's energy.
Q. In an interview, you said your experiences when you studied special education were helpful in a flight attendant job interview. Tell us about your experiences and learning.
In a job interview for a flight attendant position, I was asked, "What difficulties have you faced so far in your life?" I answered that by studying special education, I saw many ways of life I'd never known; the more I learned about them, the more I felt a sense of responsibility and excitement. The interviewers really sympathized with my answer. Actually, as airline crews come from all around the world, people who do not accept diversity can be difficult to work with. So, I think my perception and experience of diversity received a favorable evaluation.
Q. Still, there are not many female pilots. Have you had any difficulties because you are a woman? And how did you overcome them?
Since there are very few female pilots right now, it is not surprising if I encounter some challenges. At first when I started my career as an airline pilot, it was difficult to always cope with personal differences. Based on my learning from studies of special education and my flight attendant career at Emirates Airline, however, I can identify, understand, and accept differences, and make efforts to actively reveal my own uniqueness and communicate with colleagues. The increased number of women airline pilots in the years to come will make many currently unfamiliar things more natural and familiar, a change for the better. Frequent encounters will turn unfamiliarity into naturalness and just a part of daily life. So, I want many women to try hard to be pilots and I'm rooting for them!

Source: Ewha Today