[General] [ELC] Academic Writing Class for Foreign Graduate Students (July)
작성처

언어교육원

Date

2020.06.15

391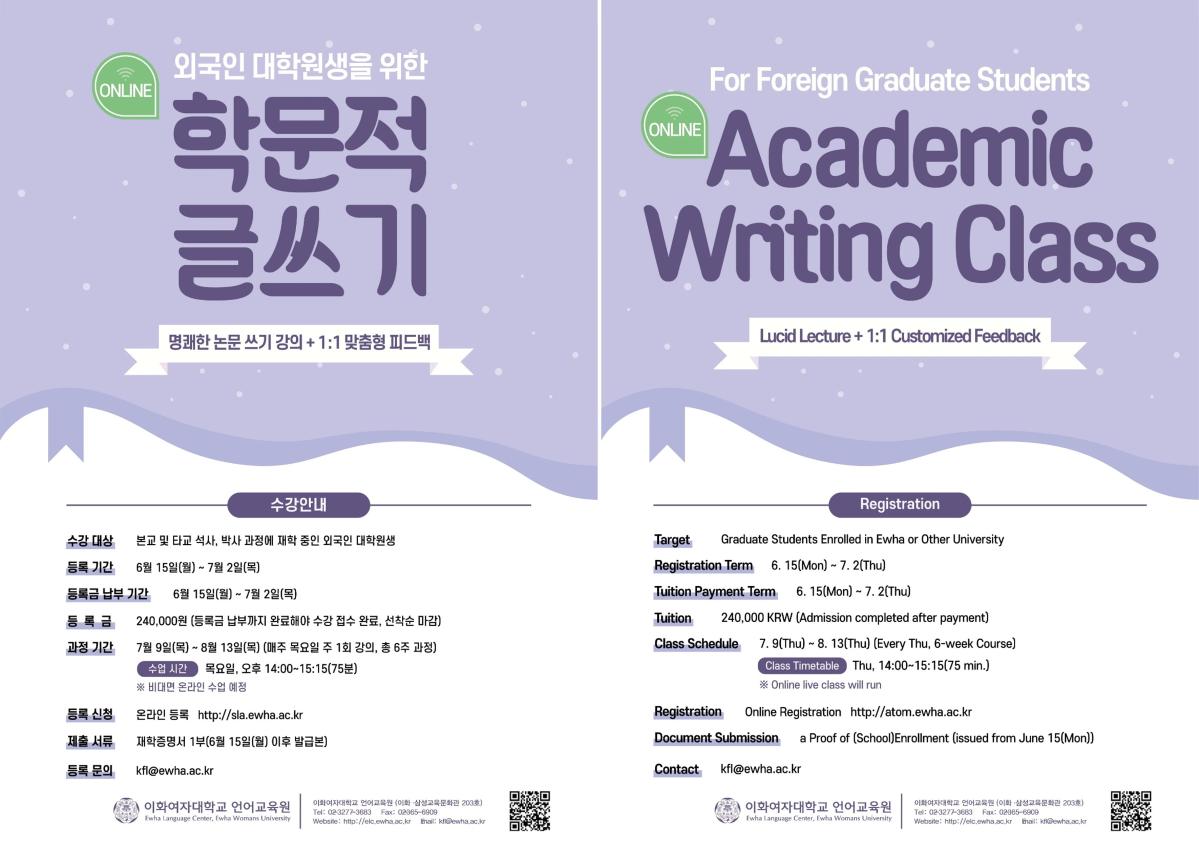 ☞ Link to Homepage(Click) Korean / English / Chinese / Japanese
< 2020 Summer Academic Writing Class for Foreign Graduate Students>
Ewha Language Center is opening <Academic Writing Class for Foreign Graduate Students> for foreign students who are struggling with writing assignment, report, dissertation, etc..
1. Target : Graduate Students enrolled in Ewha or other university
2. Class Organization :
Korean language lecturer's lucid and core [Lecture] and 1:1 customized [Feedback] meeting personal level
3. Registration Term : 2020. 06. 15(Mon) ~ 07. 02(Thu)
4. How to Register : Online registration on http://atom.ewha.ac.kr and submit required document
※ Required document : a proof of (school) enrollment (Issued from June 15(Mon))
5. Class Schedule
Class
Schedule
2020. 07. 09(Thu) ~ 08. 13(Thu)
Class
Timetable

Thu 14:00~15:15

(75min, total 6 Class)
※ Summer Course(Jul.-Aug) will run online live class to prevent COVID-19.
6. Tuition Payment
Tuition
240,000 KRW
Payment
Term

2020. 06. 15(Mon) ~ 07. 02(Thu)

※ Complement of Registration after payment
※ Submit document after online registration: Visit office or Send E-mail (kfl@ewha.ac.kr)
※ Can pay tuition after receiving document confirmation email
※ Refer to ELC Korean Language Education Department homepage for more information
7. Inquiries : E-mail) kfl@ewha.ac.kr , Tel) 02-3277-3683